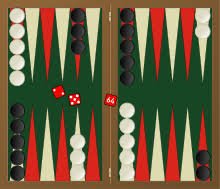 This board game involves a combination of strategy and luck, and can be traced back nearly 5000 year to Mesopotamia (Iraq as it is now) but it has only recently arrived at West Wolds U3A.
This is a newly formed group, some of whom have played in the distant past, and some who can just about spell backgammon.
We play for the fun of it, pitting our little skill against our opponent but mostly against the fickle roll of the dice.
We meet at present just for a couple of hours on the first Tuesday of the month at 2pm in our retreat at the Bistro Bar and Kitchen on Queen Street in Market Rasen. The game board is provided so all you need is some change for your tea/coffee.
Get more information from Bill Roberts
01673 842703 or 0754 4593070
wkroberts2@yahoo.co.uk