Return to the Cycling Group or our Current Rides
Looking for a route to try?
We have easy local rides and others which may be more challenging
---
April 2023
Wednesday 5th April
Angela reports ….. There were 9 of us this morning. Gordon, Wilf, Bob, Chris, Gary, John, Shirley, Sylvia, and me. It was a long ride to Rand and back. Two punctures delayed us. We only need one more puncture and then once we have had three we will be ok for ages. Thanks Gordon Ax
Friday 7th April
There were six of us , 4 started from Middle Rasen, Wilf, Bob, Gordon and a visitor. We were joined at Low Lane by Sylvia and in Osgodby by Gill.
As planned we called on Vic, then rode to North Owersby and back via South Gullam and Kingerby before stopping at Cote Hill for a break and returning home.
Wednesday 12th April
Angela records … A windy ride through Walesby, Tealby and onto the golf club. Our return was through the woods. Gordon, Sylvia, Shirley, Gary and me. Ax
Friday 14th April
Gordon, Paul, Wilf, Angela, and John rode out from Middle at 10am to Faldingworth where or ETA was shorter and we arrived in advance of Shirley. We took the Snarford / Snelland route to Rand.
Needless to say no rain touched any of the 6 of us. There was a brief shower whilst we refreshed at Buzz Stop Cafe, and it stayed dry here until 2.30pm.
Wednesday 19th April
Chris writes … Wilf, John on a smart drop bar bike and I rode to Rand this morning..not a cloud in the sky but a very strong easterly wind.We returned via Wickenby woods and onwards to Middle Rasen..
Friday 21st April
Angela reports a solo ride from Middle Rasen at 10 am. Sounds like Bob was at the wrong meeting place !
Wednesday 26th April
Angela reports … We rode to Rand today. There were 7 of us. Chris, Gary, Bob, Wilf, Shirley, Sylvia, and me.The scones are definitely the better than the cakes. Ax
Friday 28th April
Angela reports …Wilf, Gary and I had a chilly ride under dull skies to Hall Farm Park today. Ax
Wilf Adds … As Ang , said only 3 of us on Fri . Ax. Gary , and me . Not a very nice day drizzle , 2 start , then cool , and damp . Got 2 Hall Park Farm , the company , the ride was O K , but still waiting for the sunshine ! This weekend is forecast as getting better ? 🚴‍♀😎 ? Wilf
March 2023
Wednesday 1st March
Gary writes ….. For those who don't get Sylvia's comment, she was warning me about a huge pothole in front of the Dexel garage – which has very recently been filled in 😆! This mornings rather damp ride took Sylvia, Wilf, Bob and myself through the woods and then Walesby, Tealby and stopped at the golf club. We returned through the woods where Wilf took an unexpected detour into a huge muddy rut in the track. No injury – apart from Wilf's pride!
Wilf adds …..Thank's Gary , thank god I can still bounce ?
Friday 3 rd March … no ride
Wednesday 8th March
Gordon, Gary, John and Chris did a steady ride from J-Bridge through Legsby to East then West Torrington. We had a short hop through Holton c. Beckering to Rand and were surprised to see snow flurries as we chomped and drank at Buzz Stop.
The ride home was fresher but otherwise OK.
Friday 10th March …. snow stops 10am ride
Wednesday 15th March
Angela reports ….. Chilly ride today. Gordon, Wilf, John, Sylvia, Shirley and I biked to Rand. The cakes were amazing.
Friday 17th March
It was getting warmer and Bob, Angela, Wilf, John and Gordon left Middle Rasen on time to meet Shirley at Faldingworth for 10.30. The group then rode west to Spridlington and turned south for Welton. There we lined up to be served at the Secret Garden but they were stretched with no vacant tables and no likelihood that we would be served, even for take-away.
So we got back on our bikes and cycled over to Scothern where the Garden Centre hosted us perfectly. Our journey back was through Reasby to Snelland and then on to Wickenby. We left Shirley at the telephone exchange to return by Lissingley and back to Middle Rasen with Angela leaving us on the track just before the village.
Wednesday 22nd March
Angela writes …… Wilf, Gordon, Sylvia and I biked to Rand today. Miles better than the Secret Garden. A wind assisted ride home. Ax
Friday 24th March
Paul elected to ride south and west to Scothern into the sun and against the wind …. all the better to get back after a stop for refs.
Paul, Gary, Wilf, Angela and Gordon left Middle Rasen at 10am and crossed t0 Buslingthorpe and Faldingworth before going on to Snarford and Snelland. After Snelland we passed Reasby and Stainton then dropped down into Scothern where we enjoyed cream teas and other goodies at the Garden Centre.
We came home via Dunholme, Welton, Cold Hanworth and Faldingworth and noticed a rainbow on the horizon when we got to Buzz Bridge. Luckily we were "indoors" when the rain came in torrents!
Wednesday 29th March
Angela writes …. Nice ride to Rand today. Wilf, Chris, John, Sylvia, and I discussed the French, detectives, and saint. All very interesting. Ax
Chris adds …. And we missed the downpour at the end!
Friday 31st March
There were just 3 riders today, Gordon, Angela and a visitor, Thirzah. We had a steady ride in fair weather north from Middle Rasen through Osgodby where Gill met the group for an update. We carried on through the Owersbys to turn off at Gypsy Lane and came into Hall Farm Park (South Kelsey) travelling west on the Moortown Road.
After our break we rode back via Thornton le Moor.
February 2023
Friday 1st February
Angela writes ….. This morning's ride was memorable for the (fleeting) expression on the face of the lady serving us at the golf club, when she realised that the two large tea cakes were both for Wilf !!
Gordon, Sylvia, Shirley, Wilf, and me biked through Walesby, Tealby, Willingham woods and returned through the woods. Ax
Wilf adds ….Nice ride good company , and the 2 tea cakes for me , were because I am in need of sustenance ! A deprived old wrinkly ! If u believe that u will believe anything ?
Wednesday 8th February
Angela writes …. A sunny ride this morning. Gordon, Wilf, Sylvia and I biked through the woods and briefly onto the A46, before heading to Wold view at Claxby. Unfortunately it was closed – it should be staffed from next week.
Sylvia suggested the 10 acre cafe, so we went. The roast dinner " Today's Special" looked fab. We should return there. Ax
Friday 10th Feb
4 intrepid riders(Gary, Angela, Wilf and Paul) biked to Hall Park Farm. Wilf limited himself to a bacon bun and a flapjack this time. Weather was dry and cool.
Wilf adds …. Thanks 4 the food headline Gary , and the company on today's ride which was nice but a little cold . The ride 2 Brigg , and back sounds good , and I am interested
Wednesday 15th February
Angela writes …..Chris, Gary, Wilf, Sylvia and I biked to Rand this morning. The ride home was wind assisted under a beautiful Blue sky. Ax
Chris says …. Great to be cycling with you all in Rasen again
Gary adds ….. It was a pleasant ride this morning. Nice to see Chris again. I was planning to lead a ride on Friday, but the current weather forecast predicts 50mph winds! If it stays that way I don't think anyone will be biking. If it improves enough to do a ride I'll post something on WhatsApp tomorrow or Friday morning. Gary
Friday 17th February
The wind being substantially less forceful than forecast, Gary and Angela decided to ride locally. It was a casual ride with a stop at Market Rasen Golf Club.
Wednesday 22nd February
Angela writes ……. Shirley, Wilf, Gordon and I biked this morning. Our route took us to the golf club via Walesby and Tealby. Between North Willingham and Sixhills we saw 7 hares charging around in a field. A group of hares is called a "husk", a "down", or a "drove ". The most used one is a down of hares. We then returned by the woods. Ax
Friday 24th February
We were 7 riders in total. Gary, Wilf, Chris, Angela, Paul and Gordon set off from Middle Rasen at 10 am and made swift progress in the warm balmy sun to Wickenby where we had a photo taken together with Shirley. We all rode on to our old faithful haunt "Buzz Stop" cafe at Rand. As we arrived we met two gents with E bikes who a came over from Branston.
Suitably refreshed we faced into what was then a cold wind out of the north. So different from the ride in! Anyway we stayed together until near Bleasby Moor when most of us came back via Lissington. Paul had to leave us early at the Buzz Stop, whilst Gary and Angela peeled off to take the Legsby route into Rasen.
January 2023
Wednesday 4th January
Very strong winds made cycling impossible …… it was otherwise a bright warm day so Gordon and Bob went for a 90 minute walk around Middle Rasen. Gary walked with others in Humberside.
Friday 6th January
A number of the group have been laid low over the holiday and others are busy, leaving Gary and Gordon to ride from Middle Rasen to the Airfield Cafe (Wickenby). We met other riders there including Tim, Chris cycling friend from Louth, and Mike who is a friend of Vic's from Lincoln. We returned via the Torringtons, Legby and Market Rasen.
Wednesday 11th January
Angela writes ….. Yesterday, Gary, Slyvia, and I rode from Rasen to Walesby and along Catskin Lane to Tealby. There was a ford halfway down Catskin Lane which we carefully splashed through. Then to the golf club for coffee. Return via Dog Kennel wood. A lovely ride. Ax
Friday 13th January
Gordon led the usual group ride from Middle Rasen PO with Paul, Angela and Gary. There was a steady X wind from the west which troubled the group coming from Rasen to the start but was not a problem on the predominantly south ride beyond Wickenby and Snelland to Rand. Sandra at Thornes asked where we had been since Xmas … Apologies were tendered and Gordon and Gary admitted a visit the the Airfield Cafe. Angela was silent concerning Wednesday's visit to the Golf Club!
Rain threatened on our return but held off until later in the day, so we enjoyed a wind assisted ride back to Market Rasen via the Torringtons and Legsby. Gordon then had the pleasure of a head wind back to Middle Rasen.
Wednesday 18th January
Friday 20th January
Gordon led from Middle Rasen at 10am after a sharp overnight frost. Although there were frozen puddles in many fields, the roads were clear of ice and we rode into the sun down to Lissington and across to Wickenby. Paul and Gary decided to ride on through Snelland and then to Scothern. But Wilf, Gordon and Angela wanted to say hello to Sandra and went down to Rand (Buzz Stop), since we had not been for a while.
Sandra made it clear that the two who were absent, and getting their refreshments in Scothern, were now banned. The rumore is ….. Gordon dobbed them in and it could be true!
We had a steady run back without any of the recent strong winds giving trouble.
Wednesday 25th January
Well the weather was more gentle than we expected with a touch of sun and no real breeze to make the cool temperature unpleaseant. Gordon met with Gary, Bob, Wilf and Sylvia on Jameson Bridge and went to Rand on the back roads via Legsby, Bleasby and Holton-cum-Beckering.
The main group stayed together for refreshments at Thorne's Buzz Stop, but Gordon left early to return across the Wickenby Airfield to Wickenby and then Middle Rasen. It was raining lightly as he arrived in the village ….. guiltily having left the rest of the group to get wet!
Friday 27th January
Angela writes …. A wind free ride today. Gordon, Paul, Wilf and me cycled to Wickenby and met up with Shirley. Gordon and Paul then turned back for home, leaving the three of us to carry on to Rand. Excellent cheese scones. Ax
Wilf adds ……And steak pasties warmed up ! Very good , followed by a fruit scone with lots of butter . Nice ride good company , and continuous chat all the way to Rand , and back . Thank's . 👍 😎 Wilf
December 2022
Friday 1st December
Wilf kindly stood in for Gordon and led the ride from Middle Rasen at 10am. Wilf, Paul, Angela, rode north to Osgodby and continued on the minor roads to Hall Farm Park in South Kelsey.
Wednesday 7th December
Heavy rain meant no ride this morning
& Friday 9th December
Too icy to cycle ……………………….
Various winter walks were enjoyed
Photos by Gill Cook
Wednesday 14th December
It was a very cold day and if you listened carefully you could hear the sound of the ice cracking in the fields, hedges, verges and trees …. That said, there was no surface ice on the roads we took, just a winter scene with hoar frost garlands hanging from the branches on trees, hedges and roadside grasses, as far as the eye could see .
… we actually had a lovely run out in the sunshine with Angela and Sylvia turning back at Holton-cum-Beckering to attend another event. Wilf and I went on to Rand for a mince pie and cuppa. Very scenic ride with the trees schedding their frost garland in the sun on our return.
Wilf adds … Yea , a scenic ride although a little chilly ! Good company , and nice snack at Rand 4 G and I .
Friday 16th December ….. we had our Christmas Meal at E.H. Thorne (Buzz Stop) … no cycling
Wednesday 21st December
Angela writes …. A lovely sunny day for our ride.Gordon, Slyvia, Mike, Wilf, Gary and me rode towards the Buzz stop cafe. Gordon and Slyvia had a shorter ride, but the rest of us had scones and butties at the cafe. I will be riding on Friday IF the weather is ok. Happy Christmas everyone. Ax
Friday 23rd December ……………. no ride
Wednesday 28th / Thursday 29th December.….. just short rides with 1 or 2 riders and no stop. Angela, Gary, Gordon …..
Friday 30th December …….. no ride
November 2022
Wednesday 2nd November
Angela led a local ride from Jamerson Bridge in Market Rasen at 10am.
Angela writes ……Gordon, Gary, Sylvia and I biked against the wind to the Buzz stop cafe at Rand this morning. The wind assisted return was very quick. Ax
Friday 4th November
At 10 am Gordon, Paul, Angela, Wilf and Gary rode from Middle Rasen north thru Osgodby, Owersby, the South and North Kelseys to Howsham.
We stopped at Claytons Corner for a comfort break. There we saw and met a number of other cyclists making use of the establishment which is due to close on 18th of this month.
Our return was back the way we came and comfortably uneventful too.
Wednesday 9th November
Angela writes ….. Sunny ride today, along surprisingly busy back roads from Jameson Bridge. The Buzz stop provided the coffee stop for the 5 of us. Shirley, Slyvia, me, Gordon and Wilf. Ax
Wilf adds … Nice ride today , apart from last Mile where I picked up a puncture, so walked the last bit with Gordon. 😂 🚴‍♀ ! W
Friday 11th November
Armistice Day and the 4 of us (Gordon, Wilf, Angela and Gary) rode south against a strong but warm breeze. After Wickenby and Snelland we got to the A158 at Stainton just before 11 am, so took our 2 minutes silence as a quiet breather.
After our brief stop we carried on through Newball to the other side of Hardy Gangs Wood and, taking a bridlepath, crossed fields and the Barlings Eau to visit the remains of Barlings Abbey.
We retraced our rout over the river and fields back to the road where Gordon found a large thorn embedded in his tyre. Having repaired the puncture, we continued to Goltho and then Rand for refreshments.
With the wind behind us, the home run was fast and uneventful.
Wednesday 16th November
Angela writes … A sunny start for today's ride to the Buzz stop cafe. Gordon, Wilf, Bob, Mike and I went via the Torringtons before we had out coffee and cake. Ax
Friday 18th November
It was a fresh day with a breeze from the north. Having met at Middle Rasen for 10, Wilf, Gary, Paul, Angela and Gordon cycled north to Osgodby, Kingerby, S. Gullam and N. Owersby. We then took the Moor Road to the A46 and crossed to Pelham Road and stopped at Wold View for tea and cake before continuing into Claxby.
The ride back was fairly easy on the Park Road and having crossed the A46 with a large area of flooding we took the Osgodby Low Road back to Middle Rasen.
Wednesday 23rd November
After a lot of rain and a late start, Angela writes ….. Today, Gordon, Gary and I biked through the Torringtons, past Wickenby and home. No coffee stop, we will have one on Friday. Ax
Friday 25th November
It was a cloudless sky and 6 were ready to push against the cool wind all the way to Scothern. Wilf, Angela, Bob, Gary, Paul and Gordon did a quick circuit of Middle Rasen and took the cycle path to West Rasen before turning off for the Spridlington Road, Cold Hanworth, Welton and Dunholm, where Bob pointed out a new bike shop.
It was tea or coffee and cake at Scothern Garden Centre, before our ride back in the sun with the breeze at our backs. We came back through Reasby, Snelland and Wickenby before Angela and Paul turned for Market Rasen at Buslingthorpe Bridge.
Wednesday 30th November
Angela writes after the ride from Jameson Bridge ……….. A chilly dull day, but the Buzz stop cafe is always warm. Gordon, Wilf, Bob, Slyvia and I warmed up over coffee before our return. Ax
October 2022
Wednesday 5th October
With strong winds Angela cancelled the usual group ride at 10 am from Jameson Bridge.
Friday 7th October
Gordon lead riders from the usual group at 10 am from Middle Rasen PO. We were Wilf, Angela, Gary and Gordon. There was a strong warm breeze from the south so we rode out against it toward Lissington. We turned at Lissingley and cut across to Wickenby then passing the Broadbent Theatre we went to Snelland and Fulnetby. We turned right for Clay Bridge and a short ride on the A158 to Bullington, Apley, Goltho and into Wragby for refreshments.
Our return was via W. Torrington and Linwood.
Wednesday 12th October
Angela writes ….. Gordon, Slyvia, Wilf, Bob and I rode today. We stopped at the Golf club for lunch, and were followed home by a helicopter. Ax
Friday 14th October
It was a very breezy day when Gordon, Gary, Angela and Wilf rode south against the warm wind, expecting to travel not too far. However, they decided to challenge the wind and from Middle Rasen ….. passed thru Lissington, Wickenby, and Snelland where they met up with Geoff.
The main group continued on to Reasby, Stainton by Langworth, Newball, Apley, and Goltho before turning back toward Rand and meeting Geoff at Thornes Beehive Cafe for a chat.
The return was via Holton, West and East Torrington, then Legsby and Market Rasen.
Wednesday 19th October
Angela writes ….
A windy but mild ride today. Gordon, Wilf, Slyvia and I biked to the Buzz stop cafe at Rand. The mars bars slices looked yummy, but probably thousands of calories. Angela x
Friday 21st October
We were 4 this morning: – Wilf, Paul, Angela and Gordon.
The ride was north against a warm breeze to Osgodby, Kingerby, S.Gullum and Owersby. We took the rout from Gypsy Lane that led us onto the Moretown Road before turning back to Hall Farm Park for a comfort break.
The return was on the roads not used on the way out … as far as possible.
Wednesday 26th October
Angela writes:- Today, Gordon, Gary, Wilf and I meandered our way to the Buzz Stop Cafe. They had a lovely selection of creepy cakes. Ax
From Jameson Bridge we went out via Legsby and East Torrington and Holton to Rand. Our rout back went through Snelland to Wickenby and the woods to the Lissingley Xing and we split at Buslingthorpe Bridge. Odd showers caught us on the way out and near the end of our ride.
Friday 28th October
It was windy but warm today at 10am. The ride south to Lissington from Middle Rasen, against the breeze, was like doing a relentless 4 miles, all uphill. That said we turned west and made it to Nettleham and the little tea shop in reasonable time, then came back with some wind assistance thru Welton and Faldingworth.
Coming from Market Rasen, Angela would have done over 30 miles and Wilf and Gordon about 3 miles less. With the breeze going, it was a good workout.
September 2022
Friday 2nd Sept
Chris reports …. Wilf, Gary and I cycled from Legbourne along the side of the Wolds until we dropped down into Well. We headed south to Willoughby and then turned north to Alford. That is 19 miles without stopping.
We were ready for sausage baps while Gary enjoyed a vegetarian breakfast.
The return route was much easier and we finished at Legbourne close to 2pm. A total of 31 miles cycled.
Wednesday 7th Sept
Angela reports …… It was just Sylvia and I today. Wilf had a problem with his bike. Usual ride to the Bee hive.
Lovely ride and very warm. Ax
Friday 9th Sept
Gary writes about his ride from Middle Rasen it was a …………………..
25 mile ride with Angela and Wilf today. Started foggy and damp which gradually improved to a warm and sunny ride, but in the last kilometer, to the golf club, the heavens opened and we all got soaked! Still it was good to get out.
Wednesday 14th Sept
Angela writes …… Gordon, Wilf, Sylvia and I biked to the Beehive cafe today. A definate nip in the air. Ax
Friday 16th Sept
This morning the group was 6 riders at the start in Middle Rasen: Wilf, Gary, Paul, Chris, Angela and Gordon. We rode north against a brisk breeze through Osgodby, Kirkby Owersby and South Kelsey to North Kelsey and Howsham where we took refreshments. Example, large bacon roll plus hot drink for £5.50.
The ride home was much easier, with the route home now being largely downhill and with a following wind.
Wednesday 21st Sept
Angela writes …. There were 7 of us today. Gordon, Wilf, Chris, Gary, Mike and I set off from JB. We picked up Shirley at Faldingworth. We then biked through Snarford and ended up at the beehive cafe. Our usual lovely Wednesday ride. Ax
Friday 23rd Sept
Gordon led a group of 5 from Middle Rasen. We were Wilf, Gary, Shirley Mark (visitor) and Gordon. We crossed to W. Torrington and across to Wragby … with a short stretch on the fast Louth Road.
In Wragby we stopped at the Corn Dolly Cafe then made our way through Golto / Apley to Rand and back via Wickenby where Shirley and Mark turned off. The rest carried on to Lissington and split at the Buslingthorpe Bridge.
Wednesday 28th Sept
Angela led 7 riders and writes ….. There were 6 of us at the start this morning Gordon, Shirley, Slyvia, Myself and it was lovely to welcome back Lynne and Geoff. We biked to the Beehive and where Gary, who had left earlier on a longer ride, joined us for refreshments and the ride home.
Gordon had a 3:2:1 and Lynne approved of the sausage sandwiches. Ax
Friday 30th September
After a number of apologies, at Middle Rasen we were just 2 Friday riders, Angela and Gordon. Our route was out via Lissington and Wickenby to the Airfield Cafe, which was much improved from my last visit. We then cut through Holton and the Torringtons before returning via Legsby and Mk Rasen.
August 2022
Wednesday 3rd August
Angela reports … Today's ride had Mike, Chris, Gary, Wilf, Shirley, Sylvia and me, biking to our usual top cafe, the Beehive. A bit windy, but surprisingly warm. The cheese scones were amazing. Ax
Friday 5th August
Angela and Shirley took a gentler ride to the Torringtons, and had tea cakes at the golf club. Ax
Meanwhile Gary lead the 33 mile ride to Baumber Walled Garden (bit more for Wilf and Paul who set off down the wrong road for a bit!).
Chris joined us for the first section to East Barkwith. Seemed to work well with Angela and Shirley doing their own thing. The gardens were busy and the tea and cake were scrummy. Explored a few new roads and naughtily used the private road that connects to the back entrance to the gardens to avoid the busy main road. Very enjoyable ride.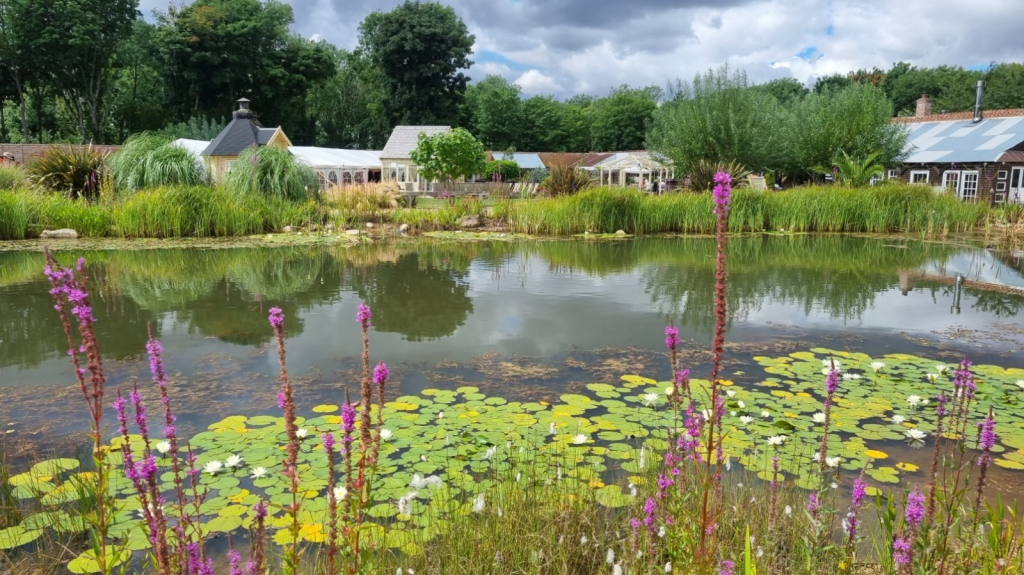 Paul writes …. It certainly was a great ride with lots of new minor roads to explore. The Walled Garden is a hidden gem (as they say in the brochures) and is being developed with great creativity.
Wednesday 10th August
Angela reports that she and Wilf rode to the Beehive Cafe from Jamerson Bridge.
Friday 12th August
Chris reports … Wilf and I rode to Ludford via East Barkwith.
Uphill all the way there and it took 1hr and 45 minutes..temp was up to 28 c .16 miles there..Service was a bit slow but excellent Italian ice cream..Back to Rasen in 40 minutes.23 miles cycled.
Wednesday 17th August ride cancelled.
Wilf writes …. Mkt . Rasen flooded out last night . People evacuated from homes , and businesses under water . Still flooded in Rasen , and people not able to get to work , or anywhere . Looks like it is too dangerous to get anywhere . ? Cycling I would suggest is off ! Cars in the streets are flooded up 2 door levels . Police have set up barriers , and advised people not to try , and travel anywhere ? Wilf . Keep safe !
Friday 19th August
Chris writes … Shirley, Wilf, Bob and I cycled to the Beehive this morning..Wilf and I enjoyed 2 course meals..20 miles ridden..
Wednesday 24th August
Sylvia writes … Just Wilf and I today. Walesby, Tealby, Dog Kennel Woods and Golf club. Back W'ham woods. Good ride.
Friday 27th August
Angela reports …Shirley, Sylvia and I had a lovely ride under blue skies. Walesby, Tealby, and onto the golf club. Ax
Paul reports …… it was a glorious day for cycling; not so glorious coffee venue at Nettleton. Wilf, Chris,Gary and I called in on Vic on our way back.
He was in fine form- back on his bike and doing some swimming and ukulele playing … not all at the same time.
Wednesday 31st August
Angela Murtagh reports …… 27.5 miles biked for Gary and I, but longer for Wilf. We went a long way round to the Beehive Cafe. Wickenby, Snelland, Langworth, Apley, and onto Rand.
A lovely ride but against the wind on the return. Ax
Wilf say …. 30 for me , with good company , and a nice route ! W.

July '22
Wednesday 6th July
Angela reports … 5 biked to the Beehive cafe today. Gary, Wilf, Shirley, Sylvia and myself. Nice ride as usual. I won't be riding this Friday or next Wednesday as I am boating. Ax
Friday 8th July
Chris Reports .. Starting from Legbourne, Wilf and I enjoyed a leisurely ride to Bay's cafe in Alford..We were rewarded with enormous sausage baps and drinks..Our return was quite hilly but we enjoyed the views over to the coast and a slight backwind 25..miles
Wednesday 13th July
Sylvia kindly agreed to lead this ride to Wickenby and the Airfield. Awaits named rider detail.
Shirley, Wilf & me only to Wickenby on Wednesday. Lovely ride, not too far in the heat. Wilf had bacon roll, I had biscuit and Shirley had crisps. Did not see menu but saw chips being served in metal bucket.
Friday 15th July
Angela writes …. Gary and I had a lovely, and not too hot ride today. The golf club provided shade and tea cakes. We were home by 11am. Ax
Wednesday 20th July
Angela writes … Wilf, Gary, Sylvia and I biked to the Beehive cafe today. It was considerably cooler. I can be at Middle P.O. at 10am if anyone wants to ride this Friday. Ax
Friday 22nd July
Angela writes … It was a riders choice today. Wilf, Mike, Paul and I biked to a new cafe in Caistor. We followed the usual route towards Hall farm, then turned to go through Moortown and Nettleton.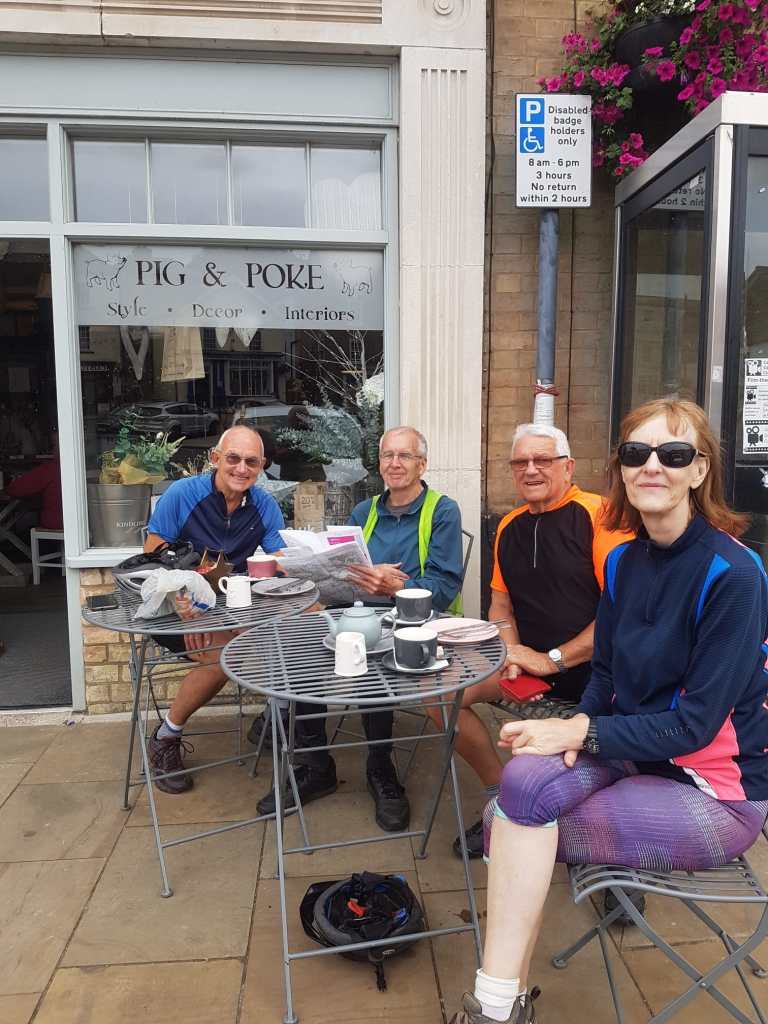 Return was past the Dun Deal and up to the top of the wolds. Mike biked the steep hill, the rest walked. Then down into Claxby and home. 24 miles. We must do this again.
Ax
Wednesday 27th July
Angela writes ….. Shirley and I had another lovely ride to the Beehive today. Anyone would like to ride this Friday? I am happy to lead. Suggestions on a destination. Ax
Friday 29th July
Angela led to the Airfield at Wickenby …. the riders were Chris, Wilf, Shirley and me. We picked up Shirley at Faldingworth and went a circuitous route to Wickenby airfield cafe. Much improved in food and service, would go again. 20 miles from Middle.Ax
June
Wednesday 1st June Angela leads from Jameson Bridge at 10am and writes …
There were 6 riders today. Chris, Gary, Bob, Wilf, Shirley and me. We went to the Beehive cafe – I paid this time. It had just started to rain by the time we got back to MR. I will be riding on Friday. Just a local ride with a stop around half way at the MR golf club. Tescos at 10am. Ax
Friday 3rd June
Starting at 10am from Tesco in Market Rasen … it was a local ride outin a wide circuit with Angela, Gary, Paul, Wilf, Mike and Chris on small roads beyond Market Rasen.
The stop was at the Ice Cream Parlour in North Willingham. Yum!
Wednesday 8th June
Angela writes ….. It was actually warm for today's ride to the Beehive cafe. Sylvia, Wilf, Gary and I even considered sitting outside, but the benches were wet. Summer is here at last. Ax
Friday 10th June
Chris writes … Today Wilf, Bob, Paul and I cycled to Scothern Garden Centre.
We had outside seating and enjoyed excellent portions of fruit cake and coffee..(Wilf and I)..Great weather and company..23 miles..
Wednesday 15th June
Chris writes ….. today Mike, Wilf, Shirley and I rode from JB past Tesco to Wickenby and on to the Beehive Cafe… Mike left us there to return home and we came back thru Snarford and Faldingworth … And we all remembered to pay!
Friday 17th June
Wilf , Chris, Bob and Gordon met at the Brigg Leasure Centre for a 10am start.
We rode into the town centre and south beside the Ancholme in brilliant sun. At Cadney we turned back to cross the river stopping on the bridge.
From Hibaldstow we continued south to the Airfiled SkyDive centre for a cuppa and waited to watch the first jump. We had hoped to witness Wilf's first parachute jump 🪂. Unfortunately the GP said "NO"
After watching the first jump we returned by road to Brigg via Scawby .
Wednesday 22nd June
Angela led the ride from Jameson Bridge in Market Rasen at 10am.
Again the weather was brilliant but with holidays, appointments and the Lincolnshire show in full swing there were just 2 riders. We took the longer route out to Rand and the beehive cafe. It was the second time in the week, it having been the destination for the non u3a 25 mile Monday ride, when we had a group of 3.
We came back via Wickenby, Lissingley and Middle Rasen … a 21 mile ride.
Friday 24th June
Gordon led a group including Bob, Angela, Paul and Shirley from Middle Rasen at 10am. WE met up with Gill and Chris in the osgodby area and cycled out through North Owersby and Gipsey Lane to the Kelsey – Moortown Road.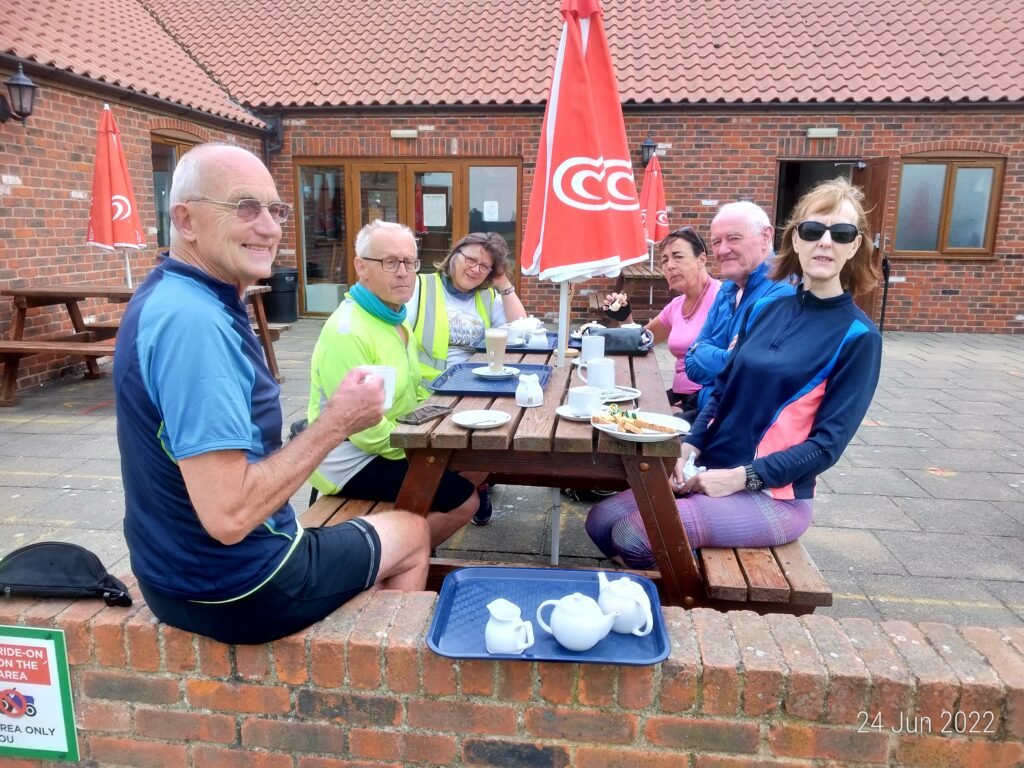 Our return to Middle Rasen was via South Kelsey, Thornton Le Moor, South Gullum and Kingerby. Just under 20 miles.
Wednesday 29th June
Angela led the ride south from Jameson Bridge to Rand via Lissington and Wickenby.
…… Nice ride today. There were 5 of us, Sylvia, Mike, Gordon, Wilf and me. We went to the Beehive Cafe. Ax
May
Wednesday 4th May
Sylvia, Gary, Helen and Gordon had a relatively short, un-hurried and largely "off road" from the Tealby Road through Willingham Woods and onto the Lindsey Trail to south of Dog Kennel Wood.

The group crossed to the Linwood side and enjoyed riding between the Bluebells massed beside the path. We stopped at the Golf Club for a break before returning on the Legsby Road and finishing in Market Rasen.
Friday 6th May
On a bright warm day Gordon lead Wilf, Gary, Shirley and Paul on a ride of about 23 miles from Middle Rasen to Beehive Cafe in Rand where they met with Chris
The route was south to Lissington then dropping down to West Torrington and on toward Wragby with a short run on the A157 . We passed south through the town then turned onto the minor road toward Apley.
At Goltho Hall we turn north toward the A158 where we met with the waiting Chris, close to our planned stop at Thorne's Buzz Stop Cafe.
After the break, we ride back via Snelland , Wickenby and Lissingley before returning to our respective start points.
Wednesday 11th May
Cancelled due to early heav
Friday 13th May
Wilf, Angela, Gordon and Gary went south from Middle Rasen crossroads and then west against a stong breeze to Faldingworth where Shirley joined the group.
The headwind continued strongly against us on the Spridlington Road but was easier through Snarford, Swinhope, Snelland and Fulnetby.
We took a break at the Buzz Stop cafe and cycled back through Holton, West Torrington and White House Corner. 35 km or roughly 22 miles.
Wednesday 18th May
Angela writes … The SAS Ladies (Sylvia, Angela and Shirley) biked to the Beehive Cafe today. Lovely Ride. Does anyone want to go to the 10Acre Cafe next Wednesday? …I just realised that I forgot to pay for my tea and cake at the Beehive Cafe. Am I the only one? Ihave just phoned and apologised. So I will be biking back next week to pay my debts. Ax
Friday 20th May
No Ride
Wednesday 25th May …. at 10am from Jameson Bridge in Market Rasen.
Angela reports …
A windy ride under an overcast sky today. Sylvia, Gary and I rode from JB up to Nova Scotia bridge. Gary then decided to do his own ride, leaving us to do a circuit through Osgodby and Kingerby. We ran out of time to visit the 10 acre. Please check your email for messages from Gordon.Ax
Gary reports …
Didnt think i'd get a word in edgewise with Ange & Sylvia also didnt much fancy greasy spoon of 10Acre, so left them and headed north, cycled past Hall Park farm and on return did the extra loop around Kingerby 😊😊
Friday 27nd May
Chris reports … Angela..Bob..Wilf..Shirley and I cycled from Middle Rasen to the Beehive cafe at Rand.. strong wind from the west but it didn't stop us too much.. Angela paid her debts..after doing a runner the other week ….We returned much the same way as we went..approx 19 miles
April
Friday 1st April
Wilf, Gary, Angela, Bob and Gordon met at Middle Rasen Post Office at 10am. We rode out on Skinners Lane to Osgodby and met up with Gill before riding on to Kirkby and the Owersbys. We could see the threat of snow in the north as we turned off the Thornton le Moor road at Gypsy Lane and crossed to the Moortown Road. Heading toward S. Kelsey we were pleased to have missed the threat of snow as we stopped at Hall Farm for a break.
Return is via South Kelsey and Thornton le Moor and it was then that hail came scything across our paths as we retrace our outbound route. We stopped in the sudden onslaught, but it was completely passed on arrival at Kirkby in blue sky with sun!
Wednesday 6th April
We went (against the strong west wind) to Beehive Cafe in Rand today. It was Lincolnshire sausage sandwiches all round … for the "wee three", Wilf, Angela and Gordon … that's me!
Friday 8th April
Gordon, Paul, Chris, Angela and Bob met at Middle Rasen Post Office at 10am. The weather was perfect for a run south into the sun to Lissington where we were joined by Mike.
From Lissington we cycled to Wickenby then across the Airfield to Rand. We had a short hop up the A158 and crossed to Goltho in the Limewoods and entered Wragby from the south.
We took refreshments at the Corn Dolly before returning off the A157 to West Torrington and on north to Linwood and Market Rasen where Angela Paul and Mike turned off and the remaining 3 rode back to our start in Middle Rasen.
Wednesday 13th April
We were 3 men today, Wilf, Gary and Gordon! … we did the Rand ride and the dinner ladies thought we had abandoned our lady riders. Not true.
Wilf and I got back just in time to miss the 💦 torrential ☔ rain.
Sorry if it just got you Gary …….. 😢
Friday 15th April
Led by Chris, Angela, Shirley, Wilf , Bob and Gary enjoyed a leisurely ride to Wickenby ..The cafe is much changed to how it used to be and the staff are still learning how to take orders and serve quickly
..Returned via Snarford and Faldingworth..Weather very nice ..21 miles cycled
Wednesday 20th April
On a lovely sunny day Gary, Sylvia, Wilf and Gordon rode south from Jamerson Bridge to Holton cum Beckering and Rand with Angela leading. We stopped at The Beehive Cafe for a break and returned through Snelland Wickenby and Lissingley. 20 miles.
Friday 22nd April
Chris kindly led Paul, Shirley, Wilf, Gordon and Angela and took us from the public car park in Legbourne, out through the village and down to the Carltons.
However our scenic route through to Authorpe was closed by tar laying, so we were obliged to retraced our ride back all the way almost to Legbourne. We then made our way toward South Reston on the main road. Losing so much time, we needed to pick up our schedule for our booked slot at Tracey's. That meant a shorter steeper ride over the top and down into Swaby. And the ride out of Swaby to the Tracy's Cake Shop was really steep!
It was an easier ride back through South Thorsby, Aby and past Claytons Mill, but I think it is fair to say we were tired at the end with 40 km ….. through the gentle Wolds.
Wednesday 27th April
Angela reports …. The magnificent seven biked to the Beehive cafe today. Shirley, Sylvia, Gordon, Chris, Wilf, Gary and myself. We made inroads into their Tirimsu cake. <<<<<<——- Tasty.
Chris writes ——>>>>>>
4 years ago I devoured this wonderful piece of fruitcake at Scothern Garden Centre..the ride it rained and rained..
Friday 29th April …. 3 route options taken
We met at Middle Rasen Post Office at 10am. Chris, Paul, Angela, Wilf, Bob and Gordon. Shirley was a little late having returned home to get her helmet!
We cycled north out of the village on quiet roads to Osgodby Low Road and we split, depending on the routes chosen. Paul and Chris were going further, direct to Howsham; the rest of us were heading for Hall Farm Park via Carter Lane with two of us taking the slightly longer road via South Gullum.
It was a pretty cool morning and the two going via S. Gullum Gordon and Bob, put on another layer for the exposed section. Despite trying to catch the other 3, we simply didn't, but we were together for the stop at Hall Farm.
The weather improved (got warmer and sunnier) for our return to Middle Rasen riding south via South Kelsey, Thornton le Moor, Owersby, Kirkby and Osgodby. … About 20 miles
Chris adds…… 1:43 pm, 29/04/2022 Paul and I Rode to Claytons cafe in Howsham. Paul, very kindly, bought me a large slice of Bakewell tart..We returned via Searby and North Kelsey Moor and Moortown..29 miles approx.
March 2022
Wednesday 2nd March
Four of us biked to the Bee hive cafe today. Gordon, Chris, Gary and myself. A bit damp and windy, plus a puncture stop. But a brisk pace keep us nice and warm. Ax
Friday 4th March
Ride cancelled because of rain.
Wednesday 9th March
Gordon, Gary and Chris had a warm steady breeze from the south and went out against it on a sheltered route. Coming back from Rand was wind assisted and sunny.
Friday 11th March
It was breezy but pleasant going south, passing through Rand and on to Goltho before peddling steadily into Wragby.
Bob, Gary and Gordon rode home wind assisted. 🚴‍♂️🚴‍♀️🚴‍♂️
Monday I expect a bit of sun, if anyone fancies joining me outside Middle PO at 10am. 😉
Wednesday 16th March
Angela reports .. It was a pleasant ride today. Gordon, Slyvia and I biked to the Beehive cafe. 18 miles in total. Ax
Friday 18th March
Gordon, Wilf, Bob, Angela and Gary met at Bardney and rode the Water Rail Way into Lincoln Waterside South. They crossed the city centre precinct to Brayford and continues on the Tow Path as far as Pywipe on the Fossway. We were so early arriving at our destination that we turned back toward Lincoln to refresh at the Angel Cafe.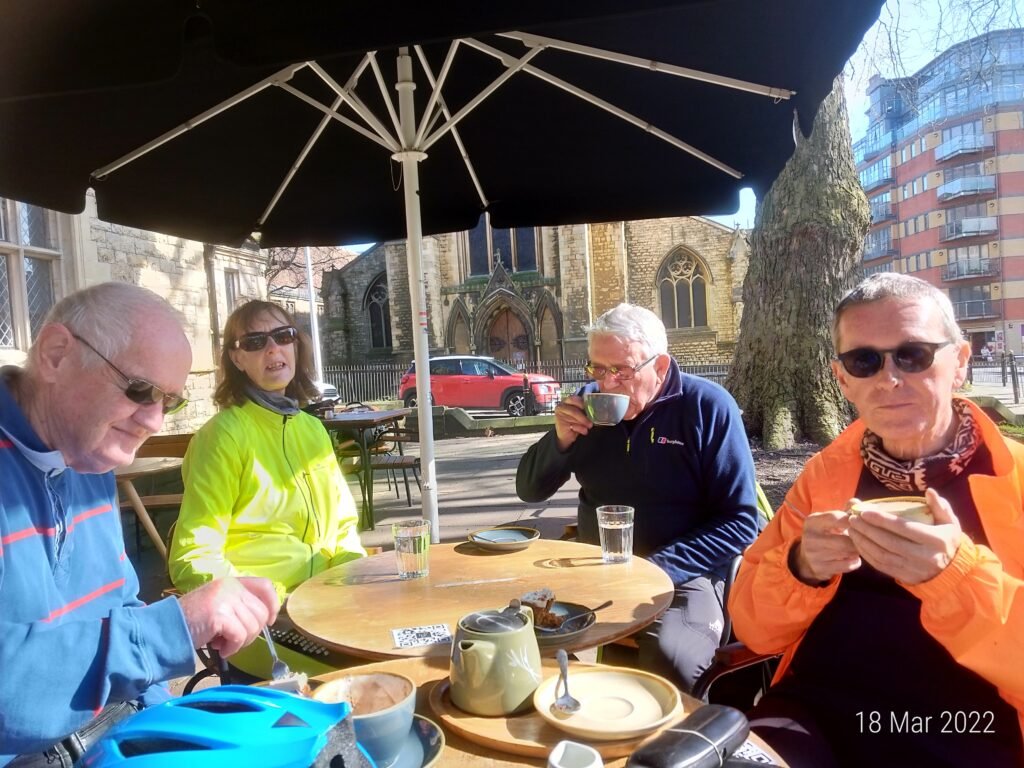 It was in bright sun, but against a cool breeze, that we followed the Withern back to Bardney
Wednesday 23rd March
We were 6 riders, self, Gary, Wilf, Sylvia, Angela and Shirley. We had a comfortable ride in bright sun and no unpleasant breeze down toi Linwood and across to Wickenby where we met Shirley. Crossing the Airfield Gary and Gordon left the group to check out the Aifield Cafe. Good news, today the Cafe at Wickenby Airfield was preparing to open again. Another place to go in the sunshine, so that's an option for next Wednesday.
We were all together when we go the the Buzz Stop (Rand) and came back via Fonetby, Snelland, Wickenby and Lissingley as a group.
Friday 25th March ….. 2 rides
Angela and Shirley did a shorter ride to Faldingworth … Wickenby Airfield ….. Market Rasen round trip, stopping at the Airfiled Cafe for a break and to update our details about he cafe.
2. Chris led Wilf, Gary and Gordon from Horncastle on the Spa Trail via Woodhall Spa and Kirkstead onto the Water Rail Way into Bardney We visited the Open Door cafe..a Christian cafe run by volunteers..Lovely little cafe run by charming people..The route back took us onto the WRW at Southery and off at Stixwold and the back via Old Woodhall. There was a bit of a climb in the last section but a great ride with beautiful weather and good company…29 miles ridden..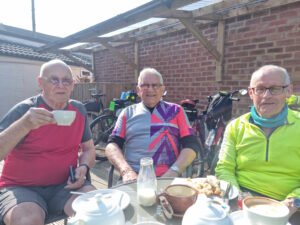 Enjoying the sun – Open Door Cafe Bardney
---
Wednesday 30th March
Angela, Bob, Sylvia and Gordon met on JB at 10am. We set off in light rain, which made us damp rather than wet. Our stop was at the new Airfield Cafe at Wickenby. They made us most welcome and it was clear that the premises were much larger and had been fitted to the highest standards. On the day, they were still stocking the premises and aside, from toast and some other confections, they could only offer hot drinks. Most welcome.
Our return was cooler and against a breeze which was changing direction as we rode. WE were all pleased to get back, having been chilled by the ride home!
February 2022
Wednesday 2nd February
Angela writes …. Just got back from a very pleasant ride. Sylvia, Gordon, Gary and I rode through Walesby, Tealby, North Willingham, Little London, and had our teacakes at the Golf club. We returned through the woods. Ax
Friday 4th February
Were had a perfectly clear sky leaving Middle Rasen, although the breeze was definitely chilly as were occasionally moved toward the west through Osgodby. We were 5 , Chris, Paul, Gary, Wilf and Gordon and called on Vic in Kirkby on our meandering way to Hall Farm Park. After a break we found ourselves in an unexpected shower as we made our way home. 20 miles for some or 23 miles, for those who started in Market Rasen.
Wednesday 9th February
Again, another nice ride this morning. Gordon, Wilf, Gary, Sylvia and Angela went to the Beehive cafe. We are now regulars, and were asked why we were not there last Wednesday. I fessed that we went to the Golf club, but as they do not have scones, we would be back to the Beehive. Ax
Friday 11th February
It was a 10 am start from Cleethorpes Country Park led by Chris. We were Chris, Paul, Angela, Wilf, Gary and Gordon. Ying came to see us off and to wish us well.
We rode over to the front and then on via the Fitteis Chalets to Tetney Lock and then on to Tetney and the Golf Clubhouse. Some of the off road section was pretty tricky with icy publles covering mud.
Mike had cycled out from home to join us.
The rout back included a circuit of the Waltham Airfield but we avoided the muddy section on return. So we did a little under 20 miles on mixed terrain, with mountain or hybrid bikes.
Wednesday 16th February
Angela Murtagh led the group ride in a steady westerly warm breeze: Sylvia and I had a mild but blustery ride to the Golf club today. The others, Gordon, Gary, and Chris did their own thing. Ax
Gordon: Our own thing was to leave A&S at West Torrington and cross open country against the warm wind to cake and scones at Buzz Stop in Rand. We came back through Snelland and Wickenby.
🚴‍♂️🚴‍♀️🚴‍♂️🚴‍♀️🚴‍♂️
Friday 18th February ….. a red storm warning for some areas meant it was amber for us and the U3A ride was cancelled.
Wednesday 23rd February
A ride of two halves today. With the wind behind us, so easy, not so against it.
Sylvia, Gary, Gordon and myself went through the Torringtons and had our break at the golf club. We returned through the woods. Ax
Friday 25th February
Gary led a ride from Middle Rasen to Howsham with Paul, Chris, Angela and Wilf.
Gary writes – great ride today in the lovely sunshine! I've added a link to a YouTube video concerning the new changes to the Highway code. It's a bit long (42mins) but well worth watching by cyclists and motorists alike.
January 2022
Wednesday 5th January 22
This was the first ride of 2022, and Angela led a local ride at
10am from Jamerson Bridge.
There were 6 of us on this cold but bright 20 mile ride from Market Rasen to the Beehive cafe in Rand. We were Gordon, Sylvia, Gary, Chris, myself and Tom, who wore shorts!!! Ax
Friday 7th January
Wilf, Paul, Angela, Gary and Gordon met at Middle Rasen at 10am and rode over to be joined by Shirley in Faldingworth. We crossed to Snarford and then went on to Rand for a break at Buzz Stop Cafe before returning home.
The weather was better than expected. Yes it was cool but the wind was not so fierce and the sun came out for most of the journey back. Depending on the start point … 23 – 25 miles cycled.
Wednesday 12th Jan
This was led by Angela and attended by 6 riders …. Angela, Sylvia, Gordon, Gary and Tom from J-Bridge. Riding from Mk Rsn to Linwood, Lissington an Wickenby where we were joined by Shirley. We stopped at Thornes in Rand and returned via Snelland to Wickenby then Lissingley Xing and back to our various starts.
Friday 14th January
Six members met at Covenham Reservoir at 10am on a fairly bright but frosty morning. It was an interesting start with one member losing their way to the R.V. and another with vehicular problems which were largely resolved while we waited the errant rider.
Despite a late start thanks to Chris, our lead, we did make most enjoyable 25 mile ride on a brilliant day. We went on the back roads to South Cockeringto then turned toward the coast and the Three Bridges junction. There we rode back toward the distant wolds to Great Carlton and turned for Mimis Community Cafe at Manby.
After a welcome break we were off again thro Grimolby to S. Cockerington and our start point. Riders were, Chris, Shirley, Gary, Wilf, Angela and Gordon …. its a ride we would all enjoy doing again. Thanks Chris.
Wednesday 19th January
Angela, Gary, Chris, Sylvia and Gordon met at Jameson Bridge. It was a milder morning than earlier in the week … no frost or wind. We cycled south through Legsby and split for part of the ride, either going to East Torrington before West or the more direct route to West T . We met up again at Holton cum Beckering and continued on to Rand and took a break at Thornes.
Return was via Fulnetby and either crossing the airfield from there or taking the longer ride through Snelland before meeting up at Wickenby. Our ride home took us over the Lissingley Xing on and continued as per NCR1 .
Friday 21st January
Following short break in the Leisure Centre Cafe (now open from 9am)….. Gordon led Gary, Angela and Wilf on a ride from Brigg to Hibaldstow. After passing through the town centre, we rode beside the frozen Ancholme on a well metalled minor road to Cadney, before crossing the river on an assortment of tracks. We tested the "Weak Bridge" with a photo shoot and were then back into normal traffic cycling through Hibaldstow to the airfield Sky Dive Centre.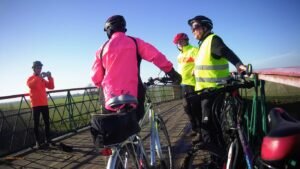 After a comfort break and refreshments we watched the Sky Dive club members assembling on the tarmac and later jumping from their light aircraft at between 10 and 15,000 feet into a clear blue sky. A real treat for us and a relief for them after such a long spell of covid restrictions.
We took the usual ride back through Scawby and then by road to the power station before using a mix of paths to the A18 and our start point.
Wednesday 26th January
Angela reports that Wednesday's ride was to the Buzz cafe. Sylvia, Gordon and I enjoyed sunshine and little wind. Ax
Friday 28th January
Bob, Paul, Angela and Wilf were led by Gary toward E Barkwith and Panton at 10am from Market Rasen.
---
December 2021
Friday 31st December …. Gary, Wilf, Angela, Paul, and Gordon rode south from Middle Rasen to Faldingworth where Gordon got a puncture. Fortunately it was warm and sunny, despite a strongish breeze. We went through Friesthorpe to Wickenby, Holton cum Beckering and the two Torringtons before turning north to Legsby and the Golf Club for refreshments. A 20 mile ride when we finished.
Wednesday 29th December ….. Heavy Rain in the morning saw Wilf and Gordon ride at 10am for 45 minutes and Angela + Gary do a ride from Jamerson Bridge at 2pm.
Friday 24th December … no ride.
Wednesday 22nd December … Angela led and at 1243 reports "A chilly ride today. Gordon, Chris, Gary and I biked 17 miles. We took in the Torringtons, had a warmup at the golf club, and went home via Willingham Woods. My feet are just Thawing out now. Ax"
Friday 17th December …. Gordon , Gary, Paul, and Wilf met in Middle Rasen on a very cool and misty morning. We rode south in a very weak sun toward Lissington and then to Wickenby where we we joined by Shirley . After the two Xings at Snelland we carried on to Reasby and turned at Stainton by Langworth for Scothern.
Our stop was at the S-Nurseries cafe, where we were given a table reserved for an Xmas lunch party.
On the return to Rasen the weather deteriorated to fog after Dunholme. From Welton we turned toward Cold Hanworth and the fog got quite thick into Faldingworth and on through Buslingthorpe and home.
Wednesday 15th December ….. Gordon led Gary, Sylvia, Chris and Tom on a ride from Jamerson Bridge on minor roads out of Market Rasen through Legsby and south toward East then West Torrington. From Holton cum Beckering we dropped down to Rand and stopped at Thorne's Buzz Stop for refreshments and comfort break in Rand. The return was via Fulnetby skirting the Wickenby Airfield to Westlaby and from Station Road Wickenby we continued on minor roads toward Market Rasen. The distance cycled was about 23 miles.
Friday 10th December …. Gary led a group including Angela M, Shirley, Bob, Chris, Wilf and Paul from Middle Rasen north to the Kelseys. After Osgodby, Kirkby, the Owersbys and Thornton le Moor, depending on who chose to go where, there were then two options for a break. The first was at Hall Farm Park in South Kelsey taken by Wilf, Angela and Shirley …… whilst Gary, Paul and Bob continued north and through north Kelsey to stop at Howsham. Return was the same route in reverse
. Wednesday 8th December …. ride cancelled by Angela …. forecast for storm with wind at steady 20 mph and stronger gusts.
Friday 3rd December …. no ride… Xmas meal at Buzz Stop, Rand
Wednesday 1st December … Angela reports … was threatening rain at 11, but when it arrived it was fairly light in a stiff breeze. Angela led Sylvia, Gary and Gordon out to Walesby from Jamerson Bridge. We crossed into Tealby on Catskin Lane before heading to North Willingham and the general direction of SixHills and on to Little London. We took refreshments at the Golf Club and then made our way back on the Legsby Road to the start point. Bit windy and chilly, but we always enjoy our rides <24 km
---
November 2021
Friday 26th November …. we were light on riders with just Wilf, Gary, Mike and Gordon. We took the easier , more sheltered route north out of Middle Rasen, through Osgodby to Kirkby and checked on Vic. After South Gullam we did a diversion via Cater Lane and Gipsy Lane onto the Coach Road back to Hall Farm Park for a break. Mike went back home via Claxby, but the rest retraced their steps with the most direct route back via North Owersby and Osgodby. 20 Miles Wednesday 24th November …… was a ride by Angela with Sylvia, Helen, Bob, Gary, Shirley, Tom and Gordon. We rode as two groups on the busier roads down to Linwood before bunching on the minor roads where we offered no obstruction. The comfort / refreshment break was at Buzz Stop in Rand. There was a ladies and gents table which created some humorous comment! We took our usual route back with a total ride distance of 35km. Friday 19th November ….. Wilf, Angela, Shirley, Paul and Gordon took advantage of the fine weather with a longish run out from Market Rasen through Legsby. The ride was south on minor roads to East Torrington then west to Holton cum Beckering and on the faster Clay Bridge Road to Rand. The break was at Thorne's Buzz Stop. The return via Fulnetby and minor cross country roads to Wickenby and Lissingley, where the group split for different home destinations. <35 km. Wednesday 17th November ….Gary takes a gentle ride in glorious sunshine with Angela and Shirley. Out to West Barkwith then back through East Barkwith and Torrington. Finished with a trip to the Golf Club. Gary Friday 12th November …. Chris planned a ride from Brigg to Winterton on Monday and Chris, Paul, Angela, Wilf and Gordon met at the Leisure Centre. At 10 sharp, we left to cycle the path beside the Ancholme as far as Saxby All Saints, then the road north to then cross the historic suspension bridge at Horkstow, built in 1834-6 by Sir John Rennie. Our route was then mainly on bridleway or minor local roads arriving at The Old Barn Tea Rooms in Winterton at 11.30am, as per our booking. Of course, we took refreshments before the return trip which we knew would be against a warm but strong ssw breeze. Despite challenging conditions, we made good time. It was evident that we were each relieved to have got back to the carpark for a brief rest, before making our separate way home. Photo by Paul Hiley. Wednesday 10th November … Angela, Gary and Sylvia went to the Beehive cafe today, for scones and bird watching. A bit wet, but virtually no wind. Ax Friday 5th November …Chris leads on a scenic ride of about 23 miles (return) to Swaby from the picnic carpark at Legbourne. Our attractive route was in part familiar to some … Under blue skys, in brilliant sunshine, Chris took Wilf, Gary Paul and Gordon on minor roads and country lanes skirting the eastern edge of the wolds through Muckton / Cawthorpe toward Claythorpe Mill / Aby and then on to Tracey's little tea shop at Swaby for refreshments. The return was back through Belleau, Authorpe, South Reston, the Carltons to Legbourne ( around 23 miles) Thursday 4 November the ride was changed from the 3rd. This morning's ride was easy going to Rand, but hard work on the way home. Gordon, Gary, Shirley and myself went to the Beehive cafe. The scones were fab, and cheap. Gordon unfortunately had a puncture on the way home, just as it was starting to rain. Ax
October 2021
Friday 29th October started with 5 riders (Gary, Angela, Mike, Paul and Gordon) at 10am from Middle Rasen PO. We rode north to Osgodby and on to South Kelsey on the minor roads. Refreshments were taken at Hall Farm Park, which was busy with little people have a day out with the APs. After the break it was over to Moretown on south to Holton le Moor on the faster roads before taking the small lane and level crossing to the A46 at Stoop Hill. It was then about a mile to the Pelham Road turn off to Claxby where Mike parted company to climb Everest. The rest of us went on the Park Road, two taking the cross field bridleway (track ) driectly back to Rasen via Nova Scotia Bridge, whilst the other two carried on to the A46 and then to Osgdby Low Road and returned to Middle Rasen. Wednesday 27th October was a local ride by Angela .. "Just Gordon and I this morning for a woodland ride. It was not too windy. We stopped at Sunnyside for a drink and a teacake. I wont be going back there. Ax" Friday 22nd October we had a long and interesting ride, largely on the south of the River Withern and led by Geoff. Gary, Paul, Chris, Gordon and Geoff left Bardney in rain but Gordon soon had a puncture. Fortunately the rain had stopped. We went up to the bypass and rode up to the high spot before turning back and onto the Washingborough Road. This trip was about 30 miles and after Washingborough we went to Heighington then toward Potterhanworth and the Hanworth Country Park for refs. Highly recommended. At Nocton we enjoyed fields of pollen bearing flowers and a very interesting history delivered by a local chap walking his dog on Lord Dyson's Farmland. We took the long isolated road from Wasps Nest back to the Withern where we crossed the bridge back into Bardney. Wednesday 20th Oct ….. Sylvia, Bob, Angela and Gordon met as agreed on Jamerson Bridge, despite the forecast. Our route was out to Walesby, then on to Tealby via Catskin Lane. Over the ford to Sand Lane and on to North Willingham where we crossed the 631 to the foot of Six Hills and turned down hill to Little London before stopping at the gulf Club. Angela writes "A ride of 2 halves today. Pre coffee, wet. After, sunny and dry. Golf club for drinks and a snack. Ax" We came back to Rasen via Dog Kennel Wood and Willingham Woods before taking the Tealby Road to JB. Friday 15th October we were 6 in number, Wilf, Paul, Shirley, Mike and Gordon (5 regulars) plus Mark a "visitor". We rode in bright sun from Middle Rasen west on the A631 to Newton by Toft and continued to Owmby by Spital then south to Welton and the Secret Garden tea rooms. Our return through Cold Hanworth took us into Faldingworth and on east via Buslingthorpe to our destination. 36 km or 22 miles Wednesday 13th October …… Angela led 6 cyclists on a local ride to Rand from Jamerson Bridge at 10am . We went out via Legsby on the quieter roads to Holton-cum- Beckering and Rand with a stop at the Beehive Café. The return was across the airfield roads to Wickenby then Lissingley to Linwood and on to Market Rasen. Riders …..Angela M, Helen, Sylvia, Shirley, Gary and Gordon. All road… 20 miles. Friday 8th October. ….. A ride up the Ancholme Way from Brigg to Ferriby Sluice and return in Memory of our dear friend Martin who planned our first visit. Unlike Martins planned route, we didnt leave the cycle path at Saxby All Saints to take the road to South Ferriby. Having asked a passing cyclist could we continue on the cycle path, the planned route was ignored in favour of an off road option which proved a challenge, given we missed the well used path other cyclist used, in favour of a less used path via a jungle of Elephant Grass. Much agony suffered by two male riders … inspect photo for injured parts (which may need microscopic viewing) and enduring insult by the event organiser was off set by a good lunch at the Hope and Anchor. The rear elevated deck gave lovely views across the Humber at the mouth Ancholme and into the Farr Ings nature reserve. With 3 punctures repaired … we were pleased to have such beautiful weather! Riders ….. Gordon, Paul, Angela M, Gill, Wilf and Chris. Wednesday 6th October ….. A local ride reported by Angela M …. Gordon and I biked 17 miles this morning. We took in both Torringtons and Barkwiths. We stopped at the Golf Club for coffee Note … Angela does not mention her pot of tea or the Pulled Pork and Stuffing Bap.
---
And 2020 was interrupted until late 2021 !
---
Wednesday 3rd June 2020 ….We are back on our bikes today as a group after Lockdown. We had 7 on our first group ride, so split up as a 3 and a 4 to keep within the 6 max and 2 metre social distance. Angela led off 3 others, John, Gary and Bob, while Gordon acted as lead for the other 2, Ted and Sylvia. We went from Jamerson Bridge by road and bridleway to our first break at Woldview Fishing Lakes (Claxby Crossing) for coffee "al fresco". After the stop we rode off the A46 and on to North Owersby and Oasgodby before returning to our start. On Friday 5th June, the ride was from Middle Rasen and mostly a repeat of the 3rd, but in reverse. On the Friday we were just 4, Wilf, Angela, Gary and Gordon so we rode as pairs. Closure of a chunk of the A46 meant we were often affected by more traffic than normal on the quiet Roads. All in All both days rides were enjoyable. Wednesday 10th June could only be described as wet, but earlier heavy rain turned lighter and then stopped after a few miles riding. Having had 3 cancellations, Angela still had 4 riders …….. Bob, Sylvia, Gordon and herself. We rode out from Rasen to Little London on the Legsby Road and then, before Sixhills, we turned left for North Willingham. There was no scheduled stop as we continued toward Tealby and the ford crossing. Taking Catskin Lane we went through Walesby onto the moor road and at the level crossing we entered the woods to ride back into Rasen. Friday 12th June a couple dropped out due to a poor forecast, but the five that remained (Ted, Angela, Gary, Paul and Gordon) left Middle Rasen a few minutes after 10am. We rode south to the Buslingthorpe Bridge and the on through Faldingworth to Snarford. The very quiet road from There through Swinthorpe and on the Snelland was a real pleasure until the headwind built up, needless to say. Against the wind we went east and beyond the Airfield to West and East Torrington. On the way north, we had a brief patch of challenging wind after Legsby but, thereafter, it was wind assisted all the way home for a 12.30pm finish. See map for route. On 12th June we were notified that the U3A is not supporting outdoor group activity.
---
LOCKDOWN ACTIVITY …… March, April & May ~ The U3A Cycling Challenges from March to end of May ~ ~ A Treasure Hunt ~ Devised for solo cyclists from Market Rasen by Mike Glendining …………… Look for the answers on route or on this page
Riding West
Head West out of Market Rasen (on the A631 towards Caenby Corner). -1. After passing the Italian flag with no red or white take the next right. – 2. Continuing for several miles you will know the correct time to turn right. – 3. When you come across a slaughter man with no torso or legs, turn right. – Follow this road to Osgodby from where you make your own way home. 2. A European tour from Market Rasen – 14 miles on minor roads but includes a climb up the wolds. Leave Market Rasen on Legsby Rd …………… If you have an aversion to large fonts look for a small capital (1)………..Just before this place take the road to the site of ancient Rome (almost) (2)…………..In the centre of this place turn left towards Ludford and then left on Caistor High St. ……………..Turn left at the next junction and look carefully on your right for a small piece of agricultural France (3)………. Descend through N. Willingham then take a right (Sand Lane) towards Tealby……………Take the lane on your left signed for one of Norway's major attractions (but misspelt) (4)…………. ..Continue to the end of the Lane then left back to Market Rasen. Geoff takes the Euro Tour …….. I think I managed to get the route right. I couldn't work out your clue 'the site of ancient Rome (almost)' but fortunately your road directions from 'small capital' were clear. The ride was lovely, particularly the road from North Willingham, along Sandy Lane and Thorpe Lane, to Tealby.- This was new to me and quite spectacular on a nice sunny day. Many thanks Geoff ……………….. Find That Bench ~ A challenge devised for solo cyclists by Geoff Leng This took a little longer to create than I expected. Googles Collage didn't come out quite how I wanted so I have attached the photos separately. I hope it has worked. So, I have been out cycling and found some beautiful benches. The quiz is to identify the location of the following 5:
….……………………………………… The Railway Station Challenge Devised for solo cyclists by Mike Glendining
This ride is a circular 30km mostly on minor roads. (It can also be done from the Lincoln area at about 40kms). The theme is 'abandoned railway stations'
Most of us know the water rail route out of Lincoln to Bardney and beyond There are several old stations along that route, but there is another abandoned railway, closer to Market Rasen where the old stations can be sought out if you know where to look. This was the Louth to Bardney branch. Closed in 1960 it never became a bridleway, probably because it passes through several tunnels under the wolds.
Leave Market Rasen on the Legsby Rd, just before Little London turn left towards Sixhills. Turn right after a few hundred metres onto unsigned lane. After a km the tarmac ends, but the lane has a hard mud/gravel surface, fine to cycle on. At the T junction turn left, after a km the tarmac reappears. Continue to the end (T junction) and left to Hainton. In Hainton follow the signs to S. Willingham (dogleg across the A157). * Continue through S. Willingham onto Station Rd.
After less than 1km you approach the bottom of a valley. Look to your right for an old Drive with a dilapidated gate pushed to the left. The pedestrian gate on the other side of the drive is in much better condition but overgrown. This is the approach to S. Willingham station. Just beyond the gate is a small brick building, this was the Ground frame for the points in the station yard. Beyond this is private property and not accessible without permission The station is now a private residence, but the platforms still exist. The station yard is now occupied by commercial buildings A few metres beyond the station approach look carefully on both sides of the road to see very overgrown embankments which carried the line over a bridge on the road you're on.
Return to S. Willingham and take a left on Barkwith Rd. An easy 3km brings you to The centre of E. Barkwith where you turn left, and less than 1km brings you to Barkwith station on your left, A fine Victorian building fully visible from the road it is overgrown in parts.
Return to E. Barkwith and turn left on the A157 for 5km to Wragby (the only main Rd on this route) as you enter Wragby turn left on Silver St. and left at the next main Rd. In less than 100m you will see Wragby station on your left (it is difficult to miss as it still carries the station sign on its end wall)
Return to Wragby centre and follow the B1202 back to Market Rasen via Holton C. B. and Lissington. (alternative, longer, but quieter roads through W. Torrington and Legsby)
* for the energetic completists you can go up over the wolds to Donington on Bain where the station lies about 2km South of the village on the Right of the road next to an overbridge (over nothing as the line has gone!) and is very well preserved as a private residence. But this adds 12km and involves climbing over the wolds twice!
…………………… UPDATE……. The cycle group is suspended during the current emergency BUT….. Cycling is a good form of exercise when other options have been removed and especially when we are social distancing and warned to avoid person to person contact on public transport. If your bike is a bit tired and not as safe or as comfortable as you would wish, why not get it fixed now, so it can be used. There are specialist cycle fitters in Halfords and Louth Cycles who can do the job, but Mick Stamp in Waterloo Street, Market Rasen, has done a good job maintaining many of the cycle group's bikes. Although cycle shops are allowed to open, you may need to make phone contact and leave your bike by appointment. If you want to get some exercise going shopping by bike, please remember to cycle safely. Wear the right clothing, use lights if when light is reduced and lock up your bike when you go in the to food shops, chemists or the doctors. Cycling together defeats the idea of social distancing and may increase infection transmission. Riding /walking / running alone or with a member of the same household is the current rule and statutory direction. If it happens riders /walkers / runners come together, then it is essential they keep a 2 metre distance and cycle off alone. Click through, if you want to try one of our shorter local ride or something more challenging Until regulations change, cycling, walking, or running once a day for exercise is now the only recreational activity outside the home. Treasure Hunt ……………….. THE ANSWERS Riding West…………….. Answer to clues 1.- The Italian flag with no red or white is a green stripe (garden machinery) 2.- The correct time to turn right is the Clock House (so called, and with a large built in clock) 3.- The slaughter man with no torso or legs is the Butcher's Arms at S. Kelsey On a European Tour …………. Answer to clues
The small capital is Little London
The site of ancient Rome (almost) is Sixhills (Rome was famously built on seven hills
The piece of agricultural France is Boucherett Lodge and farm (The Boucheretts were prominent Lincs landowners most famous of whom was Jessie 1825-1905, the last of the line. She was a prominent feminist and activist for women's suffrage)
Norway's major attractions are the fjords. The sign is to the ford at Tealby Thorpe
February Cycling 3/4/20 Gordon writes "Is it Friday already?"…….I now cycle on Monday, Wednesday and Friday, to break the week, otherwise I'd not really know what day it was. I hear Angela M is riding daily and that's largely because dancing and all her regular group activities have ceased. There have been the occasional sightings of others out on their bikes from the group, but not by me. I've been doing a woodland ride on the Monday , but on the other 2 days it's a road ride in a large circuit around the two Rasens. That is mainly so that if I have a disaster "en route" I can walk, even if it means reluctantly wheeling my velocipede the 6 miles home to Middle Rasen. I've taken to carrying a small pair of binoculars that have been used from time to time on the local wildlife. On balance, the bins have been unnecessary ….. with the quiet roads away from Rasen, the birds and other critters has been unconcerned by my passing. Today I stopped to watch a field mouse (very small and round mouse, with tiny kangaroo like legs, darker fur and shorter tail than the harvest mouse) searching for grains along the road side verge. No wonder they get eaten so easily, it made no effort to conceal itself. Never noticed me. Rather than walk it bounced along and over tufts of grass until it came to me and my size 10's … then went back into the grass and down a hole. Sniffed my trainers, can't but sympathise! Angela writes …..I may be getting fitter biking 5 days a week, but without company it is DULL, DULL, DULL!! I also really miss sausage and bacon sandwiches. I have been 'off road' on my mountain bike on the bridle paths around Sixhills. Seen bunnies and lots of tree rats. I passed John Slack today. He was out walking with his wife. Both are fine. Gary writes …..I'm back to full health now – not sure if it was the C19 , but certainly had all the symptoms, but very mild – including losing my taste buds… Anyway I'm getting out on my bike too. Today's trip was down to Hainton, Sth Willingham, E. Barkwith, Legsby and Tealby. Hoping to ride or walk most days. Have come across Ted and Angela on separate occasions whilst biking. As Gordon says the wildlife is pretty abundant everywhere. Today's highlight was a very close encounter with a male yellowhammer -small bird with very yellow head. This bird is on the RSPB red list – so was lucky to see it. The other day I came across a Muntjac deer in the woods – not resorted to the binoculars yet but that could be a good idea. Anyway getting pretty fed up with the isolation so if anyone fancies a chat on the phone or video then let me know. OK hoping you guys are all well Geoff writes …… I've done a couple of rides in the last week. Both from Nettleham in the direction of Sixhills. On the first one, I chickened out at the sight of the hill in front of me so I turned right on the 'escape road' as I approached from Little London. I forgot how bumpy it is and five minutes later had a puncture. Justice I suppose. Backtracked and found a bench in Little London for a picnic lunch – coffee from a flask and a sandwich from a Tupperware box. Not bad, but not quite like the bacon sandwiches at Wickenby or the fish and chips at the Bottle and glass. The second ride was again to Sixhills and this time I made it, up and over! The reward was another picnic lunch, this time on a rather nice bench, with view, at the crossroads near East Torrington. I don't much like sitting on grass, it is usually wet, and when you are 6 feet tall it is a long way down and back up again! So if anyone has suggestions for good benches, South of Market Rasen preferably, I will give them a try. So, I'm on a bench hunt! (nothing else much to do!) Geoff Gill writes ….Great hearing about your rides guys.. I'm lucky that I can go out with my husband but look forward to being able to go out as a group again! .. we have a couple of very local routes if we want a quick ride ( 6 miles or 13) buy last week have also gone via Market Rasen – Sixhills ( just made it up) Ludford – Binbrook and then across the High St and home via Walesby Stay well and may see you out there! Mike writes …..Hi Gordon, this is a bit like facebook which I abhor and don't use but needs must, for social contact in extraordinary times! So far so good, I have a daily routine house chores/garden to 10.00, teach Linda bridge 10.00 to 11.00 (she's a complete beginner) 11.00 out on my bike for 1 to 3 hours (depending on wind and my energy!) late lunch, collapse in front of TV! So far I have managed a different route every day. I see lots of wildlife and roadkill (deer, badgers, rats, squirrels, the odd owl and buzzard) But very few humans, maybe 3 cyclists and 4 walkers in a couple of hours! Looking forward (6 months?) to re-joining cycling group Paul writes …..Hi there cycling buddies I never thought I would thank God for email and social media but it has been a pleasure to share Gordon's nature notebook, Geoff's piece on picnic benches I have known and loved, Gary's bird watching without "bins" and Gill's conjugal ascent up Walesby Hill. As you can see, Katy is enjoying e-sailing past me labouring on the way up to Hainton. If you could hear the sound track to our daughters it goes something like this: "Ahh, leaving Dad in the dust as we soar comfortably uphill." However, I have assured her that next time we go out I am taking my super light weight, Chris- modified, alloy framed Claude Butler 21 gear superbike and there will be no contest. Unfortunately I have taken to using my Garmin gadget with it which tells me every detail of my ride (speed, average speed, calories, height ascended, what I had for breakfast and likelihood of being spotted by a police drone checking on whether this is the only piece of exercise that day.) It feeds my competitive streak and I arrive home suitably exhausted-no time for bird, mouse or picnic bench spotting. Seriously missing our camaraderie, philosophical conversation and the odd tea cake. I wonder how many of our tea shop stops will still be in business when this is all over. Also missing swimming (the sea is a step too far, Chris) and will we ever get back to speaking quietly to each other? Thank God Spring has not been cancelled, birdsong has not been cancelled, creativity and courage have not been cancelled and we continue to cheer our NHS and key workers every Thursday. Stay well and keep in touch. I will look out for that field mouse, Gordon. 4/4/20 Chris writes "Saturday Evening Already" ……… Since the lockdown we have been walking quite a lot together around Cleethorpes .The longest walk we have done so far is 4 miles. Not a lot but we were carrying a good bit of shopping back from Tescos which made it much harder work than a stroll. Last week I cycled 40 miles . My longest ride was 22 miles out to Tetney Lock,Tetney and Holton Le Clay and home. I am using a camping mattress as a gym mat and have managed a few keep fit sessions also..Martin ..I have reached 41 press ups now! Maybe the magical 100 is not out of reach in a few months? Chris writes…. Hi There..It's been great to hear all your news of about cycle rides ,nature stories, and looking for benches..Geoff there are 2 benches in Faldingworth,2 more in Ludford,1 in Stixwold, plenty in Skellingthorpe..and 1 in North Owersby.plenty in Willingham Woods .and a lovely one in Southrey overlooking the river. So far this week I have cycled 48 miles. I am pleased to say Ying has come out with me twice now. This morning she cycled 10 miles. Yesterday I went from home through the docks all the way along the Humber Bank to Immingham docks where a few of us went recently. Hardly saw a soul. I may try getting into the Wolds tomorrow. There are some high tides coming soon and with a warm spell coming I am sorely tempted to have a 5 minute swim in my wet suit . Trouble is I should really have to walk to the beach rather than drive and walking back might be too much if I am cold..The sea temp is about 7.5c.. The Louth group that I cycle with are all connected through Messenger , so one message goes to everyone. I thought it was a really good idea to start with but the constant pinging of your phone all day is rather wearing..Luckily you can mute it. So..please keep in touch Helen writes …..I've been following the news from all you cyclists with great interest. At the moment I'm walking and running but hope to fit in a cycle ride soon, especially now my bike has been re-furbished. Ideas for benches . There's a new one in Normanby-le-Wold for any brave cyclists who has attempted Normanby Hill. You've all forgotten the many seats in churchyards- if not a wooden bench they are likely to have gravestones. Walesby old church has benches with marvellous views – as does Tealby church. Claxby church has a bench. Churches may be locked but the graveyards are still open. Bw Helen 6/4/20 Martin writes ….Morning everyone, I've only managed one ride (very bad) of 30 miles since the last U3A ride, a route that took me past my sons house where I paused to wave to the grandkids though the window. I think your all doing really well, Chris has become bionic with his press ups (demonstration required on the grass at the airfield cafe next time we are all together). Keep well everyone, all the best Martin. PS I will give you all some energy gells you will sale past these benches. 7/4/20 Bob writes ….. Hi out this fabulous morning finally made it to waterbagsby, a hamlet near A15 and Wadingham. My first visit no park bench marina even declined my invitation! Visit my home village Spridlington we have 3 benches as you pass my bungalow on the faldingworth road. You may notice we have one of our very own which you are very welcome to use Yours BobJ Gary's NW passage to the Air Field Cafe Ever wondered what it's like to bike along the Bridleway that runs adjacent to the Wickenby airfield? Well the answer is that it's open, not too rutted, not too muddy, BUT very bumpy….. If you'd like to see a video then drop me a line and will send it …..Gary 8th April ……….. Gill writes What a beautiful morning to be out – lots of dog walkers , runners and cyclists.. ! Bumped into 2 Angelas- 1 biking in the opposite direction and one in the same direction! Also spotted Paul sans cyclo! Spotted a few likely benches too .. more on those another time… Gill
---
March Cycling Reports
Wednesday 4th March and Friday 6th were both brilliant cycling days. On the Wednesday we were 5 riders ….. Angela, Gary, John, Bob and Gordon …. and we chose to ride south from Market Rasen to West then East Barkwith. As we rode north toward East Torrington we met two other member, Angela and Gill, who were cycling to South Willingham. Our group popped into Mk Rsn Golf Club for a break then went back to Jamerson Bridge via Dog Kennel Wood and the Willingham Woods which was very waterlogged for a short stretch on the Lindsey Way. On the Friday we were 7 ( Ted, Chris, Wilf, Martin, Angela, Geoff and Gordon). The ride 25 miles from Middle Rasen went to Faldingworth, then to Cold Hanworth and the Hackthorne crossroads before heading north thru Spridlington to our break at Normanby by Spittal. The route back to Middle Rasen took us to Buslingthorpe via Toft Newton and Faldingworth. Wednesday 11th and Friday 13th March were fair weather cycling days. On the Wednesday it was a bit windy and four riders (Angela, Gary, Sylvia and Gordon) went up the Willingham Road to the Lindsey Way and crossed to Legsby through the woods before heading south to Holton cum Beckering and on to the Airfield Café. We came back via Wickenby, Lissingley and Middle Rasen. On the Friday we had a NW wind which offered some resistance for short stretches as we rode in to it. There were 7 riders ( Wilf, Ted, Gary, Paul, Martin, Geoff and Gordon) and the route we took was mostly south from Middle Rasen. We passed through Lissington, Wickenby, Snelland, Reasby, Stainton by Langworth, Newball, Apley and Goltho to Wragby. We stopped for aour break at the Corn Dolly Café. The trip home went out on the A157 and off north to West Torrington and Linwood before we turned across to the Lissington / Middle Rasen Road at Buslingthorpe Bridge. About 25 miles. Unfortunately, we now have a viral pandemic and from Monday 15th March it is no longer advisable for the group to cycle together. Please continue to take exercise and keep in touch with group members while we have the current emergency.
---
February 2020 Cycling Reports
February 5th … was a bright cool day for our usual Wednesday ride. Sylvia, Helen, Gill, Gary, Chris and Gordon started from Jameson Bridge Road and dropped down to Linwood, then crossed over to the Lissington Road before turning right for Wickenby and then Westlaby and the Airfield Café.
After a break we rode on to West then East Torrington and turned for home through Bleasby, Legsby and Little London. It was a comfortable ride of a little under 20 miles. Friday 7th … We (John, Glary, Shirley, Paul, Ted, Chris and Gordon) started with a cuppa at the Heritage Centre in Bardney. Shortly after 10am we were off to a pretty chilly ride on the Water Rail Way to Lincoln. We saw Cormorants, Swans, Herons, Little Egrets, and the usual ducks plus a Merganser; all busy feeding or searching the banks of the Withern and the adjacent navigation canal. The sun was promised for 10am but the very cool damp mist was with us until we stopped at Bridge House Café on Waterside South. After the break we had a warm sun but the wind was steady against us all the way back to Bardney. John and Heather were waiting for us at the Heritage Centre, so a few of us spent a pleasant half hour chatting before making our way home. Wednesday 12th was bright but breezy. We were a small group of 4, Sylvia, Angela, Gordon and Gary. The route took us as far south as Bleasby Moor and then back through Bleasby and Legsby to the Golf Club for a break. We retraced our route back a mile to take the track into Dog Kennel Wood and over to Willingham Road before crossing Willingham Woods to the Tealby Road and our start point, Jamerson Bridge. Friday 14th was a challenge for all 7 of us (Gary, Angela, Ted, Paul, Wilf, Martin and Gordon). we rode south from Middle Rasen to Lissington against an unrelenting head wind. I think its fair to say we were not sorry to turn west toward Wickenby after those first 4 gruelling miles. The rest of the ride was fairly steady. We went down through Sainton by Langworth and off to Scothern before taking the road to Nettleham. Gordons confusion on where to stop led us to take a local lady's advice and use The Tea Cosy, a little café on The Green, with a variety of choice including soup, fresh cooked food and what appeared to be exotic home baked cakes. Our route back gave us the benefit of a wind assisted passage, taking us up to Scothern, on to Welton and back through Faldingworth.
---
Wednesday 19th had five riders (Angela, Gary, Sylvia, Chris and Gordon) and was less windy than the forecast suggested. Never the less we took the easier route south via Legsby to Holton-cum-Beckering and on to the Airfield Café. After our stop it seamed cooler; possibly explained by the arrival of light rain which stayed with us from Wickenby all the way back to Market Rasen (via Middle Rasen). Friday 21st was a pretty windy affair. We were 7 in total, Chris, Martin, Angela, Gary, Wilf, Ted and Gordon. By common consensus we decided to avoid the westerly by riding south from Middle and over Buslingthorpe Bridge before turning west and crossing to Wickenby and Snelland. We then took advantage of the breeze and crossed east to Wickenby Airfield Café. The ride home was via the two Torringtons and Bleasby Moor. Just before Linwood the group split with those from Market Rasen going on whilst the way back to Middle took us back via Buss Bridge.
---
On Wednesday 26th Angela had six cycling. Angela M, Chris, John, Sylvia, Gordon and a new rider Bob. Being creatures of habit we did a 10 mile ride to the Wickenby Airfield Café and came back via Wickenby and Linwood. The weather was much improved on the forecast and we even had some sun. Friday 28th …. with poorer weather forecast, Chris changed the planned ride over the Humber Bridge to a local ride from Market Rasen. We had 6 riders (Chris, Paul, Ted, Angela, Gary and Gordon) setting off into a brisk southerly wind with rather cool rain in our faces. It was a push all the way through Linwood and on to West Torrington and then it was more comfortable crossing east toward Hainton. Thankfully the climb up to Sixhills was wind assisted and at the top we turned west …. on the decent to Little London we speeded up considerably. We were pleased to shed our wet outer clothing at the Golf Club …… order teas, coffee and lite bites. The run home was no less wet, but quick!
---
January 2020 2020 started well with a trip to the Secret Garden Café on Friday 3rd January. Five (Angela, Wilf, Gary, Chris and Gordon)of us set off from Middle Rasen and joined two more (Ted and Mike) at Faldingworth. The forecast was for fine weather, but the reality was that although we coud see clear sky in front of us all the way out to Spridlington we failed to get the benefit. However, the cloudless sky emerged as we entered Welton and we enjoyed the warmth of a bright sun on our return trip through Cold Hanworth. Never the less it was a splendid day with 22 miles ridden and we all enjoyed the opportunity for a blow after the Xmas / New Year break. Wednesday 8th January Angela took 5 of us (Angela, Sylvia, John, Gary and Gordon) on a 20 mile ride down past Legsby to the site of Collow Abbey, East and West Torrington then Holton-cum-Beckering and the Café on Wickenby Airfield. A number of other cyclists were using the Airfield as a stopover. Our route back took us to Wickenby and Lissingley before crossing to Linwood and back to the start in Market Rasen. We enjoyed a moderate 11 deg and bright skys. Friday 10th January was cool but thankfully, because we were making for the Humber Bank, where exposure can test the best, it was bright sun. We parked up in the Leisure Centre (Grimsby) and rode off, largely on cycle paths to Healing, Stallingborough and then along the Humber Bank to the fish Docks. We saw a fair amount of bird life as well as some spectacular scenic colours before arriving after a 16 mile ride at the Jubilee Café. Its not that Wilf was on his own, but with just 5 riders, Gary, Paul, Chris, Wilf and Gordon, we just couldn't get everyone in the one picture! Thanks to a hearty meal at the Jubilee Café, our return to the start had the benefit of some full tummies. The day's ride was perhaps a touch over 22 miles, but we took a few detours to enjoy our excursion look at our industrial heritage as well as the wildlife. Chris, who was leading, tells us that at a point on the Humber Bank near Stallingbourough where we saw people fishing, it is believed to be the point where the Pilgrims left to sail to Holland from England in around 1608 . Wednesday 15 th January was a steady ride out for five regulars, Gary, Angela, Sylvia, John and Gordon. From Market Rasen we passed the racecourse where we were able to greet Michael, a resting member of the group. We continued south via Legsby to East Torrington before turning toward our destination, Holton-cum-Beckering and the Airfield Café. As we turned toward West Torrington we could see that the cloud would break soon, but it was delayed and we didn't get the benefit of full sun and blue sky until later, when we left the café. We had an easy ride home, via Westlaby and Lissingley, with bright sun and an light following breeze. Thursday 16th January … we have a report from Geoff and Lynne .. You'll be pleased to hear that we have today had our first bike ride in Portugal, see attached pic. Doesn't really compare to England as you can see. We did have to endure some sand and mud (yes I got lost! Found the beach and a riverbed I wasn't looking for!) as well as the usual hills and potholes. Consolation was two beers and toasties for 4 euros afterwards Friday 17th January … Chris reports "Five cyclists turned out for the ride..Paul..Wilf..Gary ..Angela and Chris..We rode to Sixhills onto Ludford and had an excellent 25 mph descent down to Binbrook.. The B17 cafe we went to had a very good menu and vegetarian breakfasts, bacon buns and a panini with brie and cranberry were ordered.. The service was quick and cheery..and prices were good.. We stayed about an hour and then took the same route back to Rasen.. Near Ludford it started raining and became a lot colder…temp of only 5c..The descent down to Rasen was into the rain and a strong headwind..and progress was slow.. On Wednesday 24th Jan Angela had the company of Sylvia, Shirley and Gordon for the usual ride to Wickenby Airfield. It was an enjoyable ride which was a little misty before our stop, but brightened as we made our way home. The Friday 26th Jan ride, from Middle Rasen to Rand with Gordon, was joined by Wilf, Gary, John, Paul, Angela, Chris. Shirley met us on Spridlington Road, that was after West Rasen and before Snarford. We crossed the A46 to Snelland and dropped down to Fulnetby on the Clay Bridge Road. Our stop was at the Thorne beehive factory in Rand. Their restaurant/café served full meals, plus some grand 3/2/1 snacks as well as soups, sandwiches and other less calorific options. The photo shows us leaving Thorne's in brilliant sunshine to return to Middle via Holton-cum-Beckering, Bleasby Moor, White House Corner and Linwood. Wednesday 29th Angela led Sylvia, Gary, and Gordon on a fairly short pedal out to Tealby and across to Walesby before heading into the breeze on the Moor Road to Ten Acre Café. After teacakes and tea we crossed into Osgodby Wood and spied out our future off road options. From the Low Road we returned to our start using the back roads into and through Middle Rasen On Friday 31st January Gordon rode out for the first mile, but Paul, the day's group leader, continued with the remaining four cyclists and completed an enjoyable ride, despite predictions of rain and tempest! Setting off into a stiff breeze up Linwood road, we bowled gently through Bleasby and Legsby on quiet lanes before crossing the A631 at North Willingham and taking the cycle path down to Willingham Woods. Since we were all riding hybrid bikes it was no problem to explore the new landscaping around the Willingham Ponds and cross over to Tealby Road via Forest Tracks. A welcome tea and scone awaited us at Sunnyside Up where we admired the new fishing lakes and bird life before taking the sandy track across to Woodlands Caravan Park and Nova Scotia Bridge. It was pleasant riding through the woods and return via Middle Rasen to our starting point at Tescos.
---
Our rides through 2019 and earlier.
---
Friday 27th December was a cycling fix after some 10 days out of the saddle. We were eight in total with a guest rider from the Louth Cycle group. Our route was Out from Tesco and down to Little London and on to Legsby. As we turned for W. Torrington at Callow Chris has the dreaded puncture. What with a tight tyre and gunk in the tube it took a bit of fixing before we could move on to Holton-cum-Beckering and the Airfield Café . Our return was via Westlaby and Lissingley with some breaking company at the Buslingthorpe Bridge to go back to Middle Rasen.
---
Wednesday 18th December, was a comfortable ride out to Wickenby through Legsby for the usual faire. We were 3 riders enjoying a clear bright day. Return was via Westlaby and Lissingley then Middle Rasen. Unfortunately the planned ride for Friday 20th was cancelled due to persistant heavy rain.
---
Wednesday 11th was a direct run down to Wickenby from Jamerson Bridge. It was a steady ride for the 3 of us, out and back. On Friday 13th December. we had our U3A Xmas dinner at the Market Rasen Golf Club. Scrumptious, but no cycling. Sorry.
---
Wednesday 4th December was a very cold but bright day. Four of us set off from town along Willingham Road on the cycle path and cut off south through Dog Kennel Woods to the Legsby Road. We had an ice free road ride all the way to West Torrington before turning to Holton-cum-Beckering and the Airfield Café. Home was through Wickenby and along a churned road to Lissingley before separating at Bus Bridge. Friday 6th was significantly 10 degrees warmer and a few of us shed a layer of clothing before the 6 set off. We touched the Low Road near Osgodby, Claxby, Owersby Moor, South Gullam, Kingerby and Kirkby before getting to breakfast at the Ten Acre Café. Rain was forecast for 1 pm so we agreed to disperse from 10 Acres, either back to Middle Rasen or via Gipsy Lane to Walesby or through Canada Wood back to Rasen.
---
Wednesday 27th November was damp but reasonably warm with just 3 riders making the straight forward direct hop from Market Rasen to Wickenby Airfield Café. With the light rain well forecast there were no other customers and staff were busy putting up the Xmas decs. By the time we got back, its fair to say we were wet where our rainwear did not cover. However, it was very mild and a pleasant ride. Friday 29th November we were 10 riders leaving Middle Rasen and although it was pretty cool, the ground was not frozen and there was no wind, plus the weak sun was kind to us. We took a northern route to avoid mud on minor roads to the south. After Osgodby we did a loop at Kingerby and another after North Owersby to refresh at Hall Farm. The ride home in the sun took us back through South Owersby to Osgodby and Middle Rasen. All in all, it was a good group ride on a familiar circuit.
---
Wednesday 20th November was a fine day, but the 9 mile walkers had depleted numbers, so we had just three today. We decided to scope part of the Friday ride, the bit avoiding Sixhills. We took a longer route out to West Torrington before turning toward East Torrington and Hainton. The unclassified country road, skirting Clump Hill to Haltham Garrs, was in really poor repair for cars but, by meandering between potholes, was just ok with care. We finished our ride out at the Golf Club with refreshments, then returned into Market Rasen. Friday 22nd's ride was lead by Paul Hiley who writes……. "What a fine body of men and women set off on Friday from Tescos to Hainton via Legsby! The weather stayed dry, the views were wide and the lanes were relatively free from traffic. Some of the group took a slightly lower route via Holtham Garrs but we all met up at Tealby Tea Rooms for quiche, cake or coffee -in some cases all three- then set off for Walesby along Catskin Lane. We chose a range of routes home with the longest being just over 23 miles including the delightful bridleway over the romantically named Nova Scotia Bridge."
---
Wednesday 13th November did not start so well with Sylvia finding a large thorn had punctured her tyre as she joined us on Jamerson Bridge. Unfortunately the tyre was damaged and that ended her days ride. The remaining 4 rode south into the sun intending to stop at Wickenby Airfield, as per usual. As we approached, we got another puncture and did a roadside repair. By the time we arrived at the Airfield Café that had re-deflated, and we were just pleased to arrive in the warm. The tube was changed over coffee. However, setting off from the Airfield we had another puncture. It was John this time, and was fortunately soon repaired. By the time we got back we were all studying the road surface for fresh thorns. I did not find I had a puncture too, until the next day! Friday 15th was an excursion to join Chris at Cleethorpes Country Park and cycle through the Fitties to the coastal cycleway and down through Cleethorpes to Grimsby Docks. Chris has discovered the new Jubilee Café on the docks, we found it very clean and welcoming, after the bracing breeze off the sea wall. Some of us had the regular breakfast and others a variety of options. The return was largely on the same route but this time with the wind assisting travel.
---
Wednesday 6th November was a day offering a welcome break in the recent rain. We were 5 riders, 2 gents and 3 ladies, and we wanted to be back before 1pm, so had plenty of time to ride out. We took the longer route through Little London, Legsby and Bleasby to Holton and our usual Wednesday stop at Wickenby. The way back through Westlaby and Lissingley made a round trip of just under 20 comfortable miles. On the Friday (8th) we had planned to do the Bardney to Lincon run on the WRW, but it was not clear if the ride was viable given the recent heavy rain and potential river levels. As it turned out, 5 of us set off from Middle Rasen intending to head north, but the village was too badly flooded to let us pass through, so we turned around as the water got deeper and did our southern trip via the Buslingthorpe Bridge in unexpected and very bright sunlight. Crossing down to Wickenby we changed our route to pass the Broadbent Theatre and out toward the Snarford – Snelland Road. We cut back to the Snelland Crossing and up to the back of Westlaby before dropping in to the Airport Café. After such good clear weather out, we had a brief shower as we left riding into the northerly from Holton-cum-Beckering up toward Bleasby Moor and then White House Corner before we spit the group at Linwood. We arrived back as planned and safely before the return of heavy rain at 1pm.
---
Wednesday 30th October was a very bright day with 9 riders leaving Jamerson Bridge for the Wickenby Airfield Café via Legsby and West Torrington. Unfortunately one of the group couldn't locate their mobile, it having apparently dropped from an open jacket pocket as we rode out. See if you can recognise the worried face! As luck would have it, a call to the number was answered by the chap that found it and, despite a little early confusion, the phone was reunited with its owner later in the day! Friday 1st October we had a damp ride after earlier rain. With the high level of humidity, when riding into the breeze, you felt like it was raining. We were just 3 today and so we went to Wickenby to stretch our legs and enjoy some of their warm ambiance.
---
Wednesday 23rd and Friday 25th October. Wednesday was bright sun and ideal for cycling. We had a couple of riders with early afternoon appointments, so we went south beyond White House Corner to Bleasby Moor and on to Bleasby where we met a traditional traveller a the roadside preparing to shoe his horse. We made our stop at the Golf Course (Mk Rsn) and then to the Lindsey Trail up through Dog Kennel Wood to the picnic ground and through Willingham Woods to the Tealby Road.
---
Tuesday 15th and Friday 18th October With riders having other commitments on the morning of Wednesday 16th, we did our usual ride without rain on Tuesday! Starting at 1145am we rode out about 10 miles on minor roads to arrive at Wickenby Airfield for lunch. With so much water on the ground we had decided to avoid all "off road" options and, with raised feet, cruised through some fairly deep pools which stretched from verge to verge in places. On the Friday we met at Middle Rasen and went via Kirkby and South Gullum to Hall Farm Park, South Kelsey. Martin, who rode out from Howsham originally, left us at Kelsey, Ted dropped off at Kirkby and Gill at Osgodby. The remaining riders returned to Middle Rasen before dispersing.
Wednesday 9th and Friday 11th October Angela reports Slyvia and I had a lovely ride around Little London and towards Hainton on the Wednesday. We stopped at the Golf Club for refreshments – toasted tea cakes are less than half the price of the Tealby tearooms! We then biked through Willingham woods and home via the Tealby road. Unfortunately, we had rain and wind forecast for the Friday and, we took a rain check, perhaps unnecessarily because the morning was rain free until midday.
---
Wednesday 2nd and Friday 5th October On the Wednesday Angela reported that she and John biked past the golf course, turned left towards Sixhills, and down the slope to North Willingham. Then onto Tealby and Walesby, then home. Angela describes it as cold but bright. On the Friday Gary led the ride from Tesco, Market Rasen at 10.00am . Out through Middle Rasen to Lissington, Bleasby Moor, Legsby Dog Kennel Farm and crossing to the Tealby tea room, Walesby, Nova Scotia bridge. 19 miles. Paul writes that the four of us just called on Ted as we cycled through Tealby. He looked well and was moving well. Paul
---
Wednesday 25th and Friday 27th September. Rain on the Wednesday led to a late cancelled ride. However, on the Friday we expected the rain to hold off until the afternoon so Gordon, Gary, Wilf and John did a ride down to Wickenby for our obligatory feeding fix. As we left the Airfield, taking a return through Holton cum Beckering, we met Geoff testing his brand new bike. Swish! Our progress home having been interrupted by the unscheduled meeting …. that in turn was cut short when rain made an early threat.
---
Wednesday 18th and Friday 20th September were excellent cycling days in a week of sunshine. On the Wednesday we were just 4 riders and we went to Wickenby Airfield by way of a change. As on another occasion, we emerged from the Café to find one of us had acquired a puncture from hedge cuttings prior to our arrival. On balance this was lucky …. only one puncture. The two ladys needed to get back and although we fixed the puncture quite quickly, us two me never caught up despite trying to! Friday was a long ride, and planned so because of the favourable weather. It must have been about 30 miles with 6 riding out of Middle Rasen and through to North Kelsey where we went over to the Ancholme on the Carr Road. The Hibaldstow Bridge was still burnt through from an arson attack some months back, but were busy making good the river banks toward Brigg. Our photo shows a repaired a navigable section of the damaged bridge just wide enough for bikes and walkers. We refreshed at the skydive centre before riding south to Waddingham then east to Brandy Wharf and South Kelsey. We were tired as we cycled the last leg back to Middle Rasen. Wednesday 11th September we were 3 riders, Angela, Gill and myself. With a good local weather forecast we set of for the Wickenby Airfield Café. It was a good ride out in warm weather with a fairly strong westerly as we turned from West Torrington toward Holton cum Beckering. That meant we were a little puffed out by the time we had passed a farmer trimming his hedges along the narrow lane. After a welcome cuppa we found that one of us had a puncture to repair. Having made good the tube and removed a small thorn, we set off in a light rain which became heavy and soaked us by the time we cleared Westlaby for Wickenby. Later, as we rode back nearer to Rasen, we could see our local forecast was correct …….. we were then on bone dry roads! Friday 13th September was a beautiful day for cycling. We had a clear blue sky and no breeze. That was important because, having cycled from Middle to Faldingworth, the road west is open, flat and unprotected from any westerly wind. So the seven of us had a great ride to the Secret Garden and back, that was 36km or 23 miles if riding from Middle Rasen.
The piece of video shows exactly why we cycle and what we actually do on arrival at any given destination!
---
Tuesday 3rd September Sylvia and Angela went for a ride in good weather, but on the Wednesday there was a little rain which meant Angela cycled alone. On the Friday 6th Angela, Wilf and Chris went to Wickenby in the end rather than the Secret Garden. They were entertained by the Wing Walkers.
---
Wednesday 27th Angela tells us it was an all ladies ride today ( myself, Angela D, Sylvia, Helen and Shirley). We biked past the golf course, turned left at Little London, and left again at the bottom of Sixhills. Towards Willingham woods and into Tealby. We stopped for a cuppa and scones ect at Sunnyside. From there it was back through Dog Kennel woods, and back into Rasen past the golf course. Plus the weather was lovely. On Friday 29th Chris reports "Martin, Gary, Wilf and I set off from Tescos and headed towards Faldingworth to meet with Shirley on Friday. The weather was sunny with a brisk SW wind. We continued through to Snarford and headed to Wickenby airport cafe. After the usual excellent food and chatter we headed back to Friesthorpe and Faldingworth with Shirley and then headed back to Tescos via Linwood…..We all enjoyed Shirley's infectious laughter throughout the journey"
---
Wednesday 21st Angela reports "Shirley and I had a lovely ride and catch up today. We both had sausage sandwiches (on Brown) at Wickenby. We biked about 18 miles in total – we went a long way round. And for Friday 23rd August Chris lead the ride to Hall Farm Park. He tells us that apologies were received from Wilf and Shirley who had planned to ride but were unable to do so on the day…….. 7 cyclists set off from Middle..Chris,Angela M,Gary ,Paul, and a welcome return to Geoff and Lynne and their friend David. We had planned to meet up with Mike at Osgodby..we waited but after some time we carried on to Hall Farm Park..We cycled in a clockwise route to South Kelsey and then to Hall Park Farm..Suitably refreshed we went on quiet back roads to Thornton , North Owersby ,Osgodby and Middle..Weather was perfect ..temp in the middle 20s C..with a southerly wind.
---
Wednesday 14th August ……. Angela Davis led ….. I thought you might like to know that Gill, Sylvia and I had a gentle ride out to Linwood, Bleasby Moor, Bleasby, Legsby, North Willingham and over to Tealby tearooms this morning. We cut short the original plan to go via Hainton and Sixhills because of the forecast heavy rain, and in fact Sylvia and I got back just as it started. It was 15.6 miles – for the record! Friday 16th August …. the weather was not great but Angela and Wilf ignored some gentle rain to ride to the Wickenby Airfield Café for the small breakfast. After they got back it the rain poured down and was still going strong some hours later!
---
Wednesday 7th there was no ride, Friday 9th August Paul reports…..There were just three of us starting on a beautiful morning at Tescos. Mike had already cycled in from Stainton and Chris met us at the Golf Ball. I hope the word "challenging" did not put people off! It was just the Walesby Hill really that got the pulse rates up and the ride to The Dunn Deal was delightful with splendid views. Gary and I cycled back the quiet lanes via Moortown and the Owersbys and Mike and Chris made their own ways back to Stainton and Cleethorpes respectively.
---
Friday 2nd August 4 intrepid riders followed Chris through Faldingworth , Spridlington Road, Cold Hanworth, on to Hackthorn, then cross the A15 and on to Brattleby and Thorpe le Fallows arriving at Bransby Horse visitor centre for lunch. On the way we were treated to an amazing display by the Red Arrows at Scampton
We even missed the worst of the rain at lunch. 36 mile round trip. Great ride – thanks Chris.
---
Wednesday 30th July Angela tells us "Just got back from our ride to Wickenby. Angela, Gill, Sylvia and I biked, but it rained heavily on the way there, and we got soaked down to, and including, our underwear! We still had a nice time. And on Friday 2nd August Chris is riding to the Bransby Horse Centre.
---
Friday 26thJuly Chris tells us he had 6 riders, Chris, Paul, Gary and Wilf who rode from South Ferriby and met with Angela and Ted at Barton. They continued over the Humber Bridge to North Ferriby where the café is very close to being the best we have visited, with excellent breakfast rolls …….consisting of egg, bacon and sausage in a large roll. ……and very pleasant waitress service. This was 21 miles on what is probably our most picturesque route.
---
Wednesday 17th Angela had no riders with her, so it was a solo ride. However, Friday 19thJuly ….. Chris tells us …… Despite predictions of heavy showers, 5 cyclist, Chris, Wilf, Mike, Gill and John met at Tescos at 10am. We decided to go via Legsby Rd to Sixhills and were due to meet Ted in Ludford. Unfortunately, by the time we arrived at Sixhills we had managed to lose Wilf. We phoned him a few times, but there was no answer from his mobile. What happened was we managed to become quite spread out going up Sixhills and Wilf had ridden straight on towards Hainton rather that turning left for Ludford. In future rides, it might be sensible to say that any rider in front of the main group should stop when they come to any road junction and then cyclists will not go the wrong way! We headed downhill towards the B17 cafe in Binbrook and we were all surprised how reasonable the food and drinks were. £3.50 for a breakfast. Good service also. Instead of returning the same way we headed out of Binbrook towards Rothwell and then turned left towards Caistor High St. We crossed over that road and rode up to Walesby Top. Gill left us there to return home via Walesby. After descending into Tealby John headed home while Ted and I carried on down Sandy Lane to Willingham Woods and so to Tescos. Ted says … It was a good ride yesterday, I joined the group at Ludford and afterwards rode back to Rasen with Chris, still managing to do over 17 miles, luckily despite a bad weather forecast rain only troubled us for the last couple of miles.
---
Wednesday 3rd July was a circular route out from the Tealby Road through Willingham Woods with the 3 of us continued on the Lindsey Way out of Dog Kennel Wood on to Legsby Road to our stop at Wickenby Airfield. Friday 5th had 7 riders meeting at Martin's house. The more adventurous 2 had ridden to Howsham, but the rest arrived by car! It was a warmly comfortable day and we made steady progress from busy roads to tracks and then on through forest on NCR1. Martin points out the subterranean secret bunker and explains how it was fitted for war time occupation by a sabotage team …. if and when the invasion came. We emerged from the forest at Grasby Bottom and continued by road to our refreshment stop in Caistor. After refreshments 2 of our group made their way home but the remainder continued from Nettleton to Owmby, Searby and back to Howsham.
---
Wednesday 26th and Friday 28th June … While the rest of the country had a heat wave, contrary to the prevailing forecast, we were under cool cloud with breeze from the north. Despite the contrast our temperature was in the mid teens and it was good for cycling. We were 4 on the Wednesday ride and chose the bumpy road toward Hainton and then turned west toward the Torringtons. At Holton cum Beckering Angela decided to lead across country on a track which she believed went direct to the Airfield. Gordon took the road, only to find that Angela's track did cut out a chunk of fast road and arrived late behind the others and at the back of the cue for refreshments. On the Friday 8 set off from Middle Rasen and picked up a further 3 riders as we made our way to Hall Farm Park. The sun made its presence felt and we were reduced to 10 riders when Paul (who stopped to remove an outer garment) missed a right turn off the road near Thornton le Moor. We did all meet up at Hall Farm for refreshments though. The ride back was more direct and Gordon snapped a picture as we neared Vic's place at Kirkby. On Wednesday 19th June the ride had no takers. However, on the Friday, 21st June, Gary led 4 riders from the Heritage Centre, Station Road, Bardney LN3 5UF via Horsington to Woodhall Spa by road. After lunch at the Tea House in the Woods they return on the Water Rail Way beside the river Withern. Wednesdday 12th and Friday 14th June Wednesday 5th and Friday 7th June had less riders than normal. Just two ladies on the Wednesday went to the Airfield Café and on the Friday it was a small group of 4 riding from the Ropewalk in Barton. On Friday Chris led them over the Humber Bridge to take the north shore towpath along the Humber Bank to North Ferriby. The return trip was a 15 mile ride, with lunch at what Chris said was a "posh café". In summery Angela says …The bacon/sausage butties at the café were very nice, and the views were really lovely"
---
Wednesday 29th May and Friday 1st June was a week comfortable rides and varied routes. Wednesday there were just 3 of us with a shortish ride in mind, but in the end we rode over 23 miles on small lanes, because it was a good day to cycle. On the Friday we were a group of 7 and went off from Brigg along the Ancholme Valley turning off midway to use road into South Ferriby for lunch. We tried to ride back on the riverbank but struggled from the off, with the planned route blocked. First we did an excursion through the shipyard and were further obstructed when we got to the Horkstow Bridge. That said, we had a good ride, mostly off road and in fair weather.
---
Wednesday 22nd and Friday 24th May has been a week of aerial displays. On the Wednesday we rode down to Wickenby Airfield and saw an aerobatics display team in the middle of a 3 day practice session. Quit exhilarating to see their climbs, loops, twists and turns and at the same moment hear ground crew sending messages to altering the timings etc whilst the planes performed spectacular manovers. On Friday we went down the Ancholme track from Brigg to the Skydive centre at Hibaldstow. It turned out to be the biggest drop we have ever witnessed. Spectators watched as the sky was filled with descending multi coloured shutes. Like the planes performing at Wickenby, the skydivers look like tiny insects as they descend from 10,000 or 15,000 feet and are difficult to capture on a simple camera installed on a mobile phone.
---
Wednesday 15th and Friday 17th May were two longish rides, each with an alternative start/finish in Faldingworth . On the Wednesday we had 4 start in Middle and two join later as we made our way to Spridlington and the Secret Garden in Welton. We had the usual cooked fare, but it made a lovey change to sit outside in garden enjoying brilliant sunshine. From Middle Rasen and back was about 23 miles. On Friday we were again 6 riders but with two swops. It took us out to Scothern via the quieter lanes through Snarford, Snelland and Reasby, but the return through Dunholme to Welton meant we had some better road surfaces. Again we stopped for refreshments, this time at the garden centre, but tested cakes and sweet-stuff rather than our old standby , the bacon roll etc. etc. As with the Wednesday ride we came back to Faldingworth through Cold Hanworth and then the 4 who started from Middle Rasen made their way back through Buslingthorpe. A 26 mile ride.
---
Wednesday 8th May was a washout and the ride has been rescheduled for the 15th. However, despite light rain at the start on Friday 10th May we rode to East Barkwith , some going over Six Hills and others crossing through Holtham Garrs and Croppersgorse to Hainton where the 7 riders joined again. We got to East Barkwith via South Willingham but were too early fr the pub so continued via the Torringtons to Holton cum Beckerinbg and The Café on Wickenby Airfield. It was a cooler day and we were the only customers. Return was up to Westlaby and the Station Rd to Lissingley and the Buslingthorpe Bridge. A couple of us went direct to Middle and the rest crossed to Linwood before taking the cycle path back to Tesco. I havent ridden with the group for over a month so it was a good 24 miles and a great return to the group.
---
Wednesday 24th April …….It was an all ladies ride today, Angela D, Helen, Sylvia, Shirley and myself Angela M. We went to Walesby,Tealby, through Dog Kennel wood and onto the golf course for tea and tea cakes. We biked back to Rasen through the woods. I think we biked approximately 14 miles. Weather was fantastic.
---
Friday 19th April …… Well, there there have been some interesting ride since the end of March. Angela has kindly sent a summary of the Good Friday ride led by Gary. The weather was glorious today for our ride …… Martin, John, Shirley, Gary and I biked for 25 miles, taking in Hainton, South Willingham, Benniworth and East Barkworth, ending up at Wickenby. We met up with Chris and Ying at Wickenby and they biked back to Rasen with us. Thanks to Gary for the route planning……. Angela
---
In a week when both the 27th and 29th of March enjoyed absolutely perfect cycling weather, we had seven riders on the Wednesday and another eight on the Friday ride. On the Wednesday we went from Market Rasen to the track / road through Holtham Garrs toward Hainton before turning toward the two Torringtons, East and West. From there we went on to Holton cum Beckering before stopping at the Airfield Cafe. And we arrived there just in time to get served, behind eight other riders who had ridden further than us. Had we been a little later a further 30+ customers arrived, but by then assistance came to the aid of the sole cook and counter service lady! Refreshed we continued on back through Wickenby to Lissingley Lane and across to Linwood before returning to Rasen, a 20 mile ride. On the Friday, John took us from Middle Rasen to West Rasen and then on to the Toft Newton Reservoir where the group were joined overhead by a display by the Red Arrows, just as the group took a ride around the reservoir's elevated bank. The site manager was busy renting boats for a days fly fishing and offered to take orders for fresh trout, providing he was given a couple of days to catch them. Leaving Toft we continued to enjoy the Red Arrows display. We headed west for Normanby by Spittal and then south for Spridlington before turning back east toward our intended refreshment stop on the Airfield Cafe. Four of the group stopped off at St Lawrence's Church, Snarford, to look at the medieval internal decoration and marble tombs. By the time we arrived at the Café we had joined up again . On the airfield we could see 7 or 8 new looking small planes. The pilots were waiting for service as we arrived at the cafe. We sat outside for a longish break, with a mix of snacks and several more teas and coffee than was usual. The ride back through Wickenby and Lissingley Lane had some wind assist, but we so enjoyed the day, I think we would have been happy to have ridden into the wind. I measure almost 27 miles by the time we got back to Middle Rasen. Martin came from Howsham and Chris cycled from North Owersby, so I can only guess how fard they rode, but those who started from Market Rasen will have done 29+ miles.
---
Friday 22nd March we explored the Ancholme Valley from Brigg to South Ferriby with Martin. After a cuppa at the leisure centre we left a little later than expected. Martin had arranged our lunch stop at the Post Box Café in South Ferriby for 11.30. However, despite being wind assisted on the ride out, we stopped occasionally along the river and that lost us a little time. Of course, it was worth a delayed arrival to enjoy the view. At around 7 miles out the cycle track stops, so we turned into Saxby All Saints to ride the B1204 the rest of the way into South Ferriby. Turning toward Ferriby Sluice we had our planned stop at the Post Box Café. We would all recommend the food and service in the little café, where the two ladies made us very welcome. Returning from Ferriby Sluice along the Ancholme, there are steps to a footpath passing the boat yard and leading to the cycleway. At Horkstow (suspension) Bridge, built 1836 by Sir John Rennie , Martin and Chris checked other route options before deciding to re-ride the road between Horkstow and Saxby-All-Saints. From Saxby we returned to the Ancholme's bank to ride the 7 miles of cinder cycle track along the valley and back into Brigg. With the wind against us on the return, it certainly was exhilarating!
Wednesday 20th March saw an improvement in the weather with sun and blue skys crossed by vapour trails. Four of the cycle group took off to made the best of it. Our route was a mixed terrain with a straight run south out of Rasen toward White House Corner on the B1204. By way of a change we rode through Bleasby Moor and then across to East Torrington. However, we were so warm by the time we got to Collow Abbey Farm, we stopped to remove a layer of clothing. No, there was no explicit scene, just a jumper or four off and onto the back of the bikes. We looked at E. Torrington Church with its open bell tower from the road but could find no road or track to visit. So, that's a challenge for another day. On the way to Hainton we turned off on the Beck House road over to Croppers Gorse and Holtham Garrs. Its a rough old road running down into a picturesque valley before reaching the shaded wooded area. Apart from us cyclists, and some exceptionally noisy sheep, there was nothing to disturb a variety of interesting bird life. We stopped at the Golf Course for our break before returning to Mkt Rasen around midday.
Wednesday 13th March and on Friday 15th March, despite bright dry weather, the planned rides were cancelled due to forecasted high winds of 24 mph with strong gusts. However, on the Friday Chris, John and Paul cycled decided to cycle locally. They went out through the woods to Nova Scotia bridge and then over the level crossing to Walesby and Tealby. They stopped in the tea rooms in Tealby.. …..very nice in there. It was very sheltered in the woods and the wind was following into Walesby..bit windy to Tealby and to the Willingham road