November 23
Monday 20th November
Gordon will ride from Middle Rasen! The route will be decided in the morning.
Wednesday 22nd November ……….. we have no lead, yet.
Gordon will be at J-bridge for 10am and, in the absence of Angela or an alternative lead, will stand in.
Gordon's Wednesday ride will be to Walesby, Tealby, North Willingham, Little London and the Golf Club. Those with suitable bicycles can return through the woods, others by road. Just turn up.
Friday 24th November
We meet Gordon at Middle Rasen PO at 10am . On Fridays we will do a steady ride of at least 10 mph. That should keep us warm
The plan is to ride out to Spridlington and down to Welton to try what was the "Secret Garden" now it has been trading under different management for a year. We could make a longer ride out via West Rasen and Owmby by Spital or take s more direct route through Faldingworth. Decide on the morning !!!
Monday 27th November
Gordon will ride from Middle Rasen! The route will be decided in the morning.
Wednesday 29th November
Angela heads the ride from the bridge in Jameson Bridge Street (Market Rasen) at 10am. The ride is steady and can be modified on the day to take account of cyclist who may need a slower pace or are back in the saddle after a break.
The route will use local smaller "quieter" roads, go through local villages and pass chosen beauty spots. There will be a comfort break stop and an option to be refreshed
Recent Cycling Reports
November 23
Wednesday 1st November
Angela writes ….
A small select group of 3 cyclists today for a ride to Rand. We chanced upon Daisy, Jemima and Buttercup ( 3 cows) wandering in the road past Legsby. Gordon tried his hand at cattle herding watched by E. Bob and I. Luckily we found the person who looks after them.
Ax
Friday 3rd November
The promised storm Ciarán was elsewhere when 6 of us, Gary, Steve, Wilf, Angela, Gordon and Martin Keen cycled north from Middle Rasen. We did have a steady breeze, but the largely blue skies provided very comfortable cycling.
From Kirkby we skirted the bumpy South Gullum road to North Owersby and after a short hop north we turned east across country to arrive at Hall Farm Park from the direction of Moortown.
After the break we rode south through Thornton le Moor to Osgodby and back to our individual starting points.
Monday 6th November
There were 3 of us, Angela, Steve and Gordon. We did the ride out from Middle to Claxby ( Wold view) via Owersby. Returning via Canada Woods.
Wednesday 8th November
Angela writes …..A soggy and windy ride to Rand today. Gordon, Gary, John, Sylvia and me. We are all probably drying/washing our gear. Ax
Friday 10th November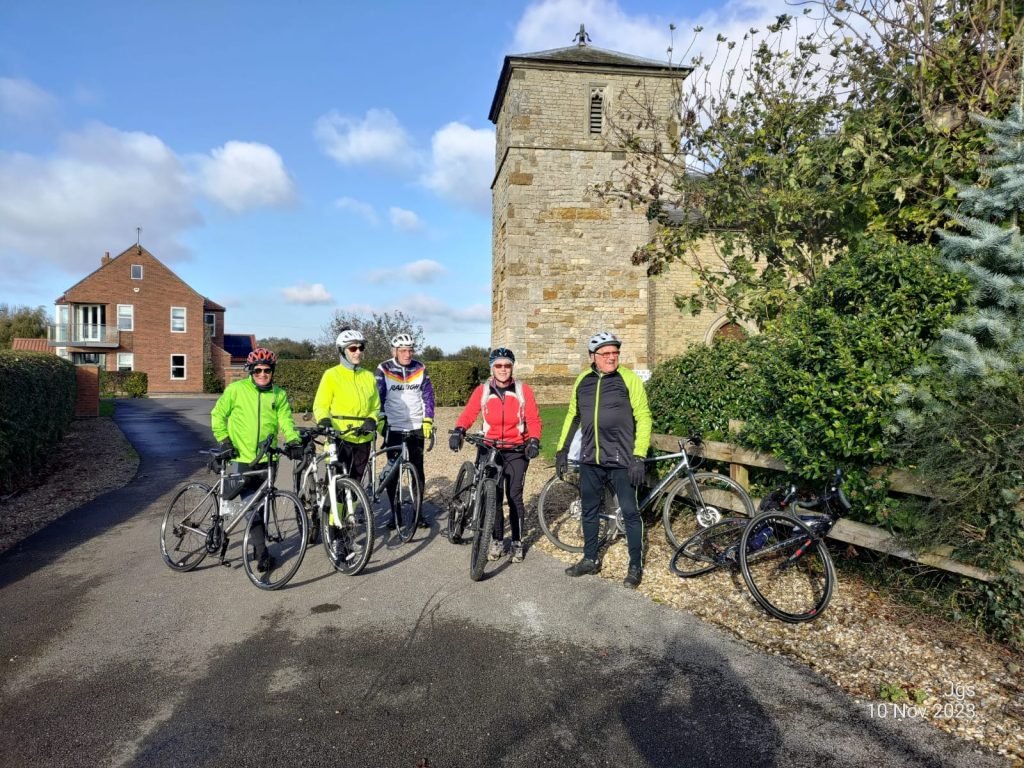 It was a bright but cool morning and there were 6 riders :- Gary, Wilf, Steve, Angela, Janet and Gordon. We rode south into the sun toward Lissington, then on via Wickenby and Snelland to Scothern where we stopped for refreshments.
The return was via Welton, Cold Hanworth, Faldingworth and Buslingthorpe. We stopped for a photo outside the redundant Church.
Monday 13th November …. High winds cancel this ride.
Wednesday 15th November
Angela writes ….a blustery ride to Rand today. Gordon, John, Gary, Mike, Steve and me. Much easier on the wind assisted return. Ax
Friday 17th November
There were 8 as we started but John got a puncture early on and dropped back to repair at home. Meanwhile Stephen, Janet, Nick, Gary, Angela, Paul and Gordon rode north through Kirkby toward South Kelsey, turning east after North Owersby and crossing to Moortown. At the X roads we turned south on the Holton road and crossed the A46 onto Pelham Road Claxby. Our stop was at Wold view before continuing through the village and out on the Park Road to the A46.
We dispersed at the Walesby Road junction, some going back through Canada Wood and others on the A46.
Monday 20th November
The Cycling Group home page