2023
Monday 29th May CANCELLED no rider response
Second of the new 10 miles (or less) rides for those new to the group or returning for a steady ride after an absence. Please message Gordon direct by email if you want to put your name down (tentatively) please. By email to gordon@elgo.net
We meet at 10 am in the Market Place ( Mkt Rsn) and we use minor roads to circuit the town stopping at the Golf Club after a few comfortable miles of cycling.
Wednesday 31st May
Angela leads the ride at 10am from the bridge in Jameson Bridge Street (Market Rasen). The ride is steady and can be modified on the day to take account of cyclist who may need a slower pace or are back in the saddle after a break.
The route will use local smaller "quieter" roads, go through local villages and pass chosen beauty spots. There will be a comfort break stop and an option to be refreshed.
Friday 2nd June
Gordon expected to be leading a ride from Middle Rasen to the south of Wragby….. but Gary is now planning this ride. AWAITS
Recent Cycling Reports
May 2023
Wednesday 3rd May
Angela writes …A beautiful day for a ride. Wilf, John, Sylvia, and I set off from JB to Rand. We met Chris enroute, and Gary at Rand. We all returned together. We need more weather like this. Ax
Friday 5th May
No ride on the 5th …. sickness and rain.
Wednesday 10th May
Angela writes …. A beautiful, sunny day, until the last 15minutes of our ride. Then we got wet. Gary, Sylvia and I biked to Rand and returned via the Torringtons. Ax
Friday 12th May
Todays ride from Legbourne went out via Cawthorpe and Muckton and was affected by cool overcast weather. The ride took us from the elevation of the wolds down to the flat land around Alford where we stopped for a cuppa. We came back via the mill at Claythorpe …
Chris reports Today Gordon ,Angela,Gary,Bob and I cycled to Alford .We had tea,coffee, scones,tea cakes , sausage and bacon sandwiches at the Crafty cafe in the Market Square. The ride back was made harder by a strong easterly wind..24 miles ridden.
Wednesday 17th May
Angela writes ….. A Super Group of cyclists this morning. Shirley, Sylvia, Elke, Chris, Bob, Wilf, Gary, Gordon and me cycled to Walesby, Tealby, North Willingham and onto the golf club for tea cakes and fish fingers. We returned via the woods. Fun. Ax
Friday 19th May
Today was generally forecast as rain, rain, and more rain. However despite a few regulars dropping for a number of personal reasons, Wilf and Gordon rode off on what turned out to be a comfortable ride south.
Despite fair weather, but with the nasty forecast hanging in the air, we decided not to stray as far as Nettleham. We did a reasonable circuit of 19 miles calling a Rand and then checking out the airfield cafe (looked closed!) at Wickenby.
Sorry some of those put off by the weather apps were not with us!
Monday 22 May
This was a first trial for people who need a short or moderate starter ride . We were Helen, Shirley Tom and Gordon this morning. Our ride was under 10 miles and took in some lovely views, from the countryside at the foot of the wolds to the river and woodlands surrounding the town.
As planned, we had a comfort break and refreshment at the golf club, before returning to Market Rasen.
Wednesday 24th May
Gordon led Sylvia, John, Shirley, Mike, Wilf and Gary on this ride from Market Rasen through Legsby and on to East Torrington where we turned west for Rand and were re-joined by Gary at the Buzz Stop Cafe.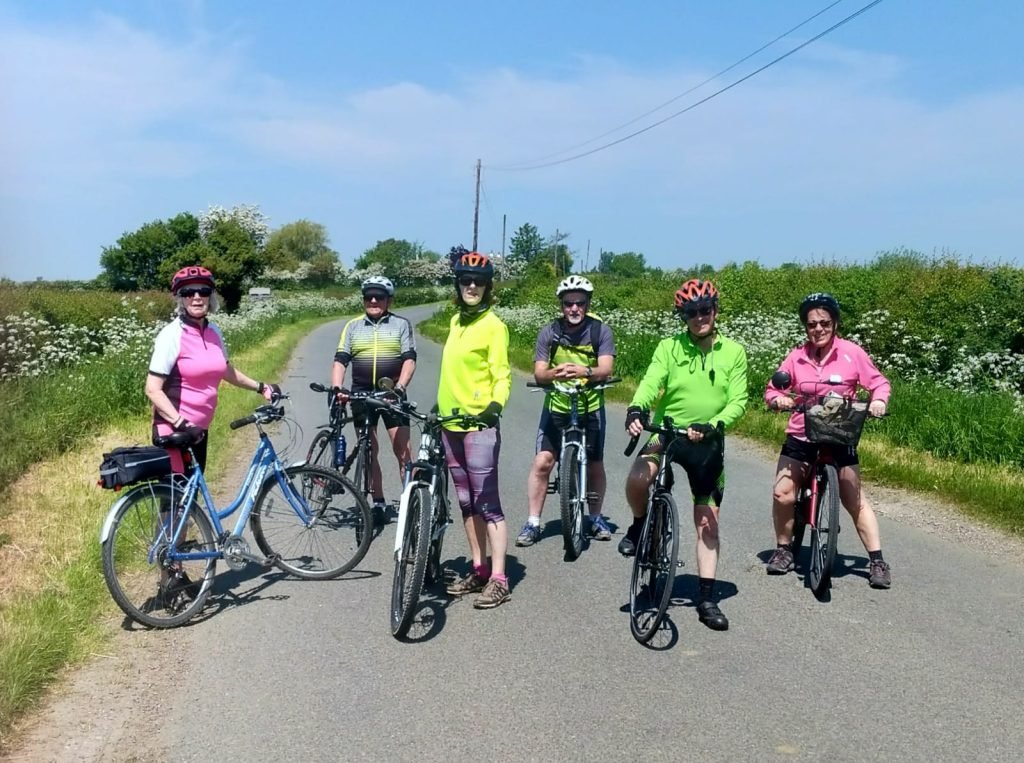 The group took the usual route back via Snelland and Wickenby toward the Buslingthorpe Bridge, but Mike, who had the furthest to go, left us early to make his way home.
Friday 26th May
Chris reports …. This morning Gordon,Angela,Paul, Gary, Wilf ,John and I cycled from Horncastle via Old Woodhall to Stixwould and onto Kirkstead Bridge. We enjoyed excellent food at The Ragged Apron cafe. The all day breakfasts looked very good value.
We returned via Stixwould, Woodhall Spa and the Spa trail to Horncastle. 23 miles.
Visit our earlier ride reports .
The Cycling Group home page