Rides  by Chris Owen <tudorowen1@hotmail.com>……..
Humber Bridge from South to North Ferriby . Starting at, say, 10am from carpark off Skinners Lane, South Ferriby, DN18 6HW (18 miles return) or 10.30 am at the Ropewalk, Barton DN18 5JT for the shorter ride.
Those starting at S. Ferriby will cycle on the foreshore following the Viking Way beside the Far Ings nature reserve. The pits and reedbeds are a legacy of the tile and cement industry which flourished between 1850 and 1959. The reserve is a popular with migrating birds on this major east-west flyway.
As a point of interest, the Ropewalk is nearly a quarter of a mile long. It operated as a rope making factory between 1767 until production ceased in 1989. It is now an exhibition centre for art and craft, holds creative workshops and has a popular public refreshment area should you need early refreshments. Otherwise, once across the bridge, the track from Hessel into North Feriby takes to a comfortable and popular cafe for our break.
Being largely off road, using cycle tracks along the north and south Humber Bank, the ride is not suitable for lighter bikes with narrow wheels.
 Market Rasen  to Donnington on Bain
From Tesco Car Park the ride crosses to Legsby Road and turns for Sixhills at Little London. After the steep climb at Sixhills there are other less troublesome climbs at Hainton and then on to South Willingham.  The Donnington Road crosses the B1225 High Street near the Belmont Mast and drops into the village. That is a run of 11.5 miles with some lovely views over to Lincoln.
Cyclists who have not been to the Post and Pantry Café in Donnington before will be surprised by the excellent service, reasonable cost of the food and the cleanliness of the surroundings. It is definitely worth a visit.
Last time with the help of a strong following wind we made swift progress back to Market Rasen covering the same ground to South Willingham and Hainton, but then avoiding further climbs by taking the flatter route from East Torrington.
Its a 23 mile ride, but with some obvious difficulties posed by the climbs. It is possible to avoid Sixhills going on tracks through Holtham Garrs, but that should be discussed with Chris well before the day.
---

Chapel St Leonard's to Gibraltar Point
This is a 22 mile return ride from Chapel St Leonard's on the coastal path to the café and visitor centre at Gibraltar Point.
If you want a shorter ride of 12 miles return, you are invited to break your ride in Skegness and pick the group up as they return from Gibraltar Point.

We meet in the public car park (with toilets) off Ancaster Ave, Chapel St Leonards, by the Beacon Medical Practice (PE24 5SL) at 10am. Journey time from Market Rasen is around an hour but allow for road works and ring if you are running late, please
---
Legbourne to Alford … 23 miles.
Meet at 10am in the public car park signed on the right hand side before you enter the village. 
This is a picturesque ride of 23 miles with some steady climbs through stretches of the gently rolling countryside as far as South Thoresby. It then continues through the flatter areas of the East Wolds toward the coast and into Alford.
The route is Legbourne to Little Cawthorpe, Muckton, S.Thorseby on rolling wolds and then on he flatter terrain to Ailby and then Alford.
Return …… to Ailby, Aby, Claythorpe, then up to Muckton and through Little Cawthorpe into Legbourne.
---
Two Covenham St Mary circuits
Parking at Covenham St Mary, ride east on Newbridge Lane into Treasure Lane and Fen Land (Grainthorpe Fen) , at the point we arrive at the A1033 , it offers north and south bound circular routes.
The north ride makes it about 14km in total
We cross A1033 into Church lane and left on Butt Lane and High St in Grainthorpe. Ride north on A1033 to Wragholme. Turn west on Wragholme Lane and Firebeacon Lane and eventually on to Bull Bank passing the Covenham reservoir to the north, before turning south back into Covenham
Riding south is a 28km ride
Going south on A1033 takes us through Ludney, possibly leaving the main road at Barrows Gate which winds west of North Somercoates and Church End to pick up Pickathorpe Lane before turning right on reaching South Road. We turn right again at Billings Gate which takes us west to Scupholme and then on Marsh Lane into South Cockerington. Then we continue toward North Cockerington, through Alvinham, North End, Yarburgh and thus back to Covenham.
---
Covenham to Oasis Cafe 1

From Covenham..park by Covenham St Mary church or opposite to it.. cycle for approx half a mile north to the edge of the village  and turn right   down  Grange Lane to Grange farm..Reservoir on your left.At Grange Farm follow the bridle path to the right of the farm down a bumpy track which leads to Louth Canal..turn right for approx 150 yards till you reach the bridge to Biergate farm and Biergate lane..Ride down the lane to Grainthorpe .Cross over A1031 turn right then first left into Chapel Lane..(Grainthorpe cafe.. WATTS for Tea is right 200 yards down A1031 )
From Chapel Lane turn right onto the High Street and follow that to Butt Lane.At the end of Butt Lane follow the road round to the left(north  east)..Marsh Lane.Follow Marsh lane NE then north abouth 2 miles..wood on left..then the road swings east then south east down Holmes Lane thru Holmes Farm.( Grain stores on either side ) and you come to Bank End junction with Eau bank Rd..Go straight on..South East along Cemetery Road..until it reaches Churchill Road..Right in Churchill Road..and ride to Keeling Street ..A1031
..Nags Head pub is at this junction for food and drink..
Turn right into Keeling Street and head half a mile SE to Oasis Lakes fishing..left into there to the cafe.
Return  the same way..about 18 miles..about 16 miles of this route  is generally traffic free apart from tractors etc..all flat..
---
Covenham to Oasis Cafe 2
You can return a different way which can also be a completely different ride.
Start at Alvingham Water Mill..there is a small car park..visit the site of Alvingham Priory..now unusual because two  ancient churches are side by side in the middle of nowhere..
From the Water Mill go north down Abbey Road  to Highbridge Road..turn right into Highbridge Road and follow this all the way until it becomes a bridle path..head towards the Wind Turbines..the bridle path reaches a gate and you have to walk this bit for 200 yards ..wind turbines on your left..The track becomes a metalled road and you ride thru Fen Farm..and now it is Fen Lane..Take the right fork to Lowgate Road and Conisholme Village. (there is a bridle path to another Fen lane on the right but this can be muddy and overgrown)
At the junction with the A1031 turn right and head north for 400 yards to the first right – a small road that leads past Eau Bridge farm to the North Somercotes to Louth Road – cross over and head to Church End and follow the road round past the school to Keeling Street A1031. At this junction turn right to Oasis Lakes and the cafe.
Retun by the same route  about 15/16 miles and again virtually traffic free apart from 400 yards on the A1031 which can be bypassed if you take the bridle path I mentioned.  All Flat.
---
Covenham to Oasis Cafe combined ride 1+2
You can combine the first ride from Covenham to the Oasis cafe with the second one ..Covenham ,North Somercotes, Conisholme and Alvingham..and back down the road from Alvingham to Yarburgh and so to Covenham St Mary..about 20 miles..
Pubs at North Somercotes(2) and Grainthorpe and cafes at Grainthorpe and North Somercotes..
I honestly think we would find these routes very good because there is so little traffic..
---
Covenham to Cleethorpes Prom
Start from the Covenham Sailing Club bottom car park on Fire Beacon Lane LN11 0PA. Turn right out of car park and head east …. first left is the small lane to Fulstow. Turn right at the end of the lane and head east to Low Farm. Cross over the Louth Navigation Canal and continue on bridle path to Marshchapel. Turn left at end of the bridle road and head to Marshchapel village where the ride is on the A1031 for half  a mile or so towards North Cotes. Ride thru North Cotes to Tetney Lock where we take the road beside the Lama paddocks to Braybrook Farm then Low Farm and on to Humberston Fitties. Continue beside the golf course thru the Fitties to the cycle path and onto the prom.
Return to the Fittes but from the car park after the chalets stay on the raised embankment to join the road again at North Cotes and return to our start point.
This is a 22 mile route with about 10 off road and baring some bumps, its all flat.
---
Cleethorpes ~ Start at 10 am from the  Cleethorpes Country Park (off North Sea Lane, DN35 ) Car Park.
The route will be of mixed terrain on bike paths, quiet roads and a few paved areas. At around 15 miles it takes in the  Humberston Fitties, the sea front and as far down as the Grimsby Docks.
Be assured Chris is has a gourmet's knowledge of the many cafes on the sea front and will enjoy sharing the culinary delights available on the day.
---
---
Geoff Leng and the Hanworth Country Park ride.
Meet at 10am in Station Road Bardney and ride a circuit to Hanworth Country Park as per direction below.
From Bardney ride south crossing the road bridge turn left off busy road on concrete strip road (Nocton Fenn Lane) to Wasps Nest. Continue on Nocton FL to Nocton Rd and into Potterhanworth. Turn left at Station Rd and then right into Hanworth Country Park. (13km refs stop)
Leave and take Little Gate Lane to Heighington. Turn right after church and take the Fen Rd down to B1190 (500m) and onto 5 Mile Lane, then take the bridge over the Withern onto the Water Rail Way cycle track and back to Bardney. (total under 20 miles).
---
---
Four rides around Brigg and North Lincs led by Paul or Martin
---
1.Barnetby-le-Wold to Deepdale Garden Centre, Barton-upon-Humber. A ride with some challenging climbs written by Paul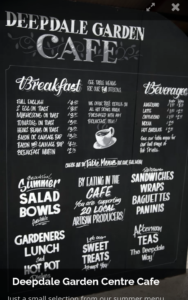 The ride leaves from Kings Road (DN38 6DG)  outside the rail station at Barnetby, going on to Queens Street and national cycle route 1 to New Barnetby. Riders cross the A18 onto Race Lane in Melton Ross and then left onto Middlegate Lane. Continue north west to the B1206 and turn right onto Wootton Road, then north east to Burnham. The  ride goes north on Burnham Road and stops before Barton-on-Humber for a break and refreshments at our destination, the Deepdale Garden Centre. The return is via Burnham where the route south takes Race Lane to Melton Ross and on to New Barnetby and the start point in Barnetby-le-Wold.
This ride is about 31km (19 miles) and has an undulating route through the northern Lincolnshire Wolds.
---
2.Brigg to Hibaldstow via Cadney Bridge
If you plan to ride out and visit the Sky Dive Centre, choose a day with high pressure and a clear sky and enjoy the free fall spectacle both outside from the airfield and inside on the live cam display.
Assemble / park in the front car park of Brigg Leisure Centre or meet at the centre's cafe, which opens at 10am.
Ride into Brigg using the cycle lane on the main road(A18). At Lidl round-a-bout cut left to river bank and cross the town centre to Elwes St. and south toward Cadney following the river.
If you prefer to avoid the more hazardous main road traffic, cycle on the footpath into the town centre, ensure you exercise care and give precedence to pedestrians at all points. The footpath leads onto Bridge Street crossing the Ancholme on the edge of the town centre. Continue on Elwes St. turning south toward Cadney and follow the river. Entering the Cadney bua, turn west onto Bridge Lane and cross river at the end of the lane. Go north on the west bank track leading onto Carr Lane and the B1206. Turn left (south) through Hibaldstow until the track on the left, signed "Hibaldstow Bridge". About 300 meters down the track turn right for the airfield and Sky Dive Centre  (refreshments and comfort break).
The return ride is north through Hibaldstow forking left on B1207 to Scawby.   Shortly after the school turn right onto Church St.  and, on reaching the B1206 junction, turn left and right to use the lane skirting the left side of the power station.
This narrow track leads into Silverside Lane and back to the main A18 on the edge of Brigg. Turn right onto the cycle /footpath and then immediately into the leisure centre car park.
The  Brigg, Cadney, Hibaldstow circuit is around 22 km and a fairly easy ride.
---
3. The Ancholme Crossings
Start at North Kelsey and ride north toward Brigg. At Howsham turn left for Cadney and the bridge xing the Ancholme. Follow the track north then west into Hibaldstow. Turn south through the village to the left turn for Hibaldstow Bridge and take the track.
Refs are available at the airfield Drop Zone Cafe)
Continue on the track to cross back over the Ancholme. The riverside track is bumpy for a few hundred meters but is then followed by a properly constructed road going back to North Kelsey
---
4. Howsham/Barnetby/Caistor a variation of surfaces and some climbs makes this a challenging ride at 20 miles. Led by Martin Hinkling .
Start in Howsham by the Clayton's Corner café LN7 6JZ. Cycle on the B1434 towards Brigg. At the junction with the A1084 turn right to Bigby and in Bigby turn left into Main Street, signed to Barnetby. At the Barnetby crossroads turn right and at the end of the road (T junction) turn right again onto a cycle/bridleway (part of NCR 1). The track passes Mealand Hill and Hendale Wood before emerging on the road near the junction at Grasby Bottom.
From Grasby Bottom, cycle up the long incline passing Pelham Pillar at Fonaby Top and then turn off the A1173 to drop into Caistor. Our stop in Caistor is at the Rock Foundation Cafe. From Caistor leave on the North Kelsey Road along Kelsey Moor to the Queens Head public House. Turn right at the QH for Owmby village. From the village bare off left on the Howsham Lane to return to your start point.
The ride Howsham/Barnetby/Caistor has some climbs and faster A roads. It has around 3 miles of bridle way and covers a distance of 20 miles: take all these points into consideration and, if you have any concerns, speak to the Lead before riding, please.
---
---
Two Rides led by Gary  (gary.beighton@gmail.com)
N.B. the first ride has two steep hill climbs
---
1. Market Rasen to the Clickham Inn starting at 11am on the Jamerson Bridge. This will be a ride of around 24 miles on public roads with some interesting scenery. However, there is a need to be mindful of the degree of difficulty due to challenging climbs onto the Wolds from Walesby and out of Stainton le Vale on the return.
Cycle out on the Walesby Road to Walesby Top (aviation mast). TL for Otby Top and TL on B1225 (Caister High St) then TR off the High St for Thorsway. Straight on to Croxby and TR Thorganby and on to B1203 …. TR for Clickham Inn and lunch stop.
On the Wold Newton Rd TR at 1st turn. At Newton Lane TL then TR and cycle on to Blands Hill.  TR on Blands Hill for Binbrook. Take the Orford Road out of Binbrook and then drop down into Stainton le Vale. Exit the village on the steep road signed to Walesby and at the High Street (B1225). Riders are advised to exercise every caution at this point when crossing TR and TL off the High Street to Walesby Top. At the aviation mast TL into Tealby Vale and then TR on Tealby Road back to Market Rasen.
The route map is http://my.viewranger.com/route/details/MTg1MzA3Mg==
---
2.Hemswell Cliff to Kexby and Upton
This ride is about 16 miles. It takes us from the Hemswell Antique Centre to Kexby and Upton before returning to the start via Harpswell.
To take advantage of refreshments at Upton, meet at and set off from Hemswell Antique Centre  at 11ish. Take the north cycle path east and cross the A631 to the south path which leads onto the quieter Dog Kennel Road. Dropping down the steep Coachroad Hill into the village of Glentworth take either road at the junction to cycle west on minor rural roads into Kexby and then on the busy B road in Upton.
The route back takes us around Sturgate Airfield to Heapham and then roughly parallel to the out bound ride, we use the minor roads signed for Harpswell
The A 631 road from Harpswell offers a short but busy steep climb to the top of Hemswell Cliff where we continue on the same A road for a few hundred meters and the Antique Centre (our start point).
The Rose & Crown at Upton makes a good stop, but doesn't open until noon, hence we are starting the ride at 11.00 am.
---
---
Mike Clendining OTH over the hill rides
Market Rasen to Rothwell … a circular OTH ride of 23 miles, 6 "off road".
From Market Rasen take the Walesby Rd. Left at caravan park, continue through woods to Walesby level crossing. Right over L.C. then, after c400m Left on bridle way to Claxby. Up Claxby hill (steep) L at junction on hill the R past the 'Golfball'.
At Caistor H.S. Straight on (lane marked Hillsborough farm) In dip turn left onto bridleway to Rothwell. (This is the most beautiful track I know in the wolds, 2 miles
Down a hidden valley – watch for deer!). Into Rothwell for the Blacksmith's Arms.
Back through the gate you came through but continue straight up the hill on the farm lane through Rothwell top farm to Caistor H. S.. Left on Caistor H.S. then (c 1 mile) right to Walesby top. Continue towards Tealby (passing radio tower on your right), After c. 1 mile right on bridle way down through Risby then L on lane to Tealby then Right to M.R.
---
---
Paul Hiley's planned rides
 1. Tesco Mk Rsn> Walesby Woodlands Caravan Site> Nova Scotia Bridge(Track) 10 acres café>South Owersby>South Kelsey>Brandy Wharf> Snitterby>  Glentham(The Willows for lunch)(About 14 miles) Back via Toft next Newton,(Look at reservoir?) Newtoft, Faldingworth, Buslingthorpe and Middle Rasen (a further 12 miles) 26 in all.
---
2.Tesco Mk Rsn> Tealby Thorpe(via Legsby Road, Dog Kennel Lane (Track)>Walesby>Rasen Lunch at Brambly Bites(10 miles)>Toft next Newton (via Linwood and Buslingthorpe and Newton by Toft) > West Rasen>Osgodby>Nova Scotia Bridge (track) and back down Walesby Road(a further 18 miles so 28-29 miles in all.
---
3.This is a longer 30 mile circular ride being led by Paul leaving Market Rasen at 10am for lunch at the Bottle & Glass at 12 noon. It is mostly quiet lanes with around 2 miles on main roads and a short stretch of bridleway.
Tescos > Dog kennel Farm (Forest Track to Willingham Road) > Tealby Thorpe and Walesby (via Sandy Lane) > A46 via Walesby Moor Road > Osgodby > Bishopbridge (via Kingerby) > Glentham (via Glentham Grange) > Normanby-by-Spital and LUNCH at The Bottle & Glass > Toft Next Newton > Newton by Toft(via Reservoir-drinks break?) > Faldingworth (via Newtoft) > Buslingthorpe > Linwood and return to Tescos.
Note there is a shorter way back via West Rasen if desired.
---
OTH (over the hill) challenging ride.
4. Tesco Mk Rsn>Walesby>Walesby Hill(steep) to Normanby le Wold> Nettleton Top to Nettleton and The Dunn Deal for lunch (about 11 miles) > Moortown> N. Owersby> Kirkby > Osgodby along Walesby Moor Road to Walesby and Tealby  to Grange Farm and Sandy Lane to Willingham Road footpath the into Willingham Woods (Track) and out to Sunnyside up (track ) to Walesby Road and back to Rasen.( a further 17 miles) 28 in all.